Bank Of Canada Sits Tight, But Expect More Tapering
We favor QE being reduced to $1 billion per week at that policy meeting and expect the BoC to start raising interest rates late next year with two rate hikes penciled in before the end of 2022.
The Canadian Dollar: Most Negatives in the Price, BoC to Come as a Support Again in October
Although the move was extremely contained, the Canadian dollar had a mildly positive reaction to the recent BoC rate announcement. This is no surprise as the Bank delivered exactly what market consensus was expecting - a pause in tapering while keeping forward guidance unchanged.
We expect the BoC to step in with another reduction in weekly asset purchases by CAD 1 billion in October, which should ultimately offer fresh support to the loonie. Until then, CAD's recovery will depend on: a) Friday's jobs data for August; b) the outcome of the Federal election; c) external factors (risk sentiment and oil prices).
We think that August jobs data will not disappoint, which should encourage markets to price in more BoC tapering and offer some respite to CAD, but political uncertainty is set to remain a potential drag as we head into the election.
The polls-imply a probability of a Liberal Party majority government moved from 60% before snap elections were announced to just 2%, according to 338canada.com, as PM Trudeau saw a sharp drop in his approval rating in the past few weeks. According to the latest polls, it now appears marginally more likely that the opposition party (Conservatives) may secure the most votes and possibly form a new coalition government.
For now, markets are concerned about the political picture in Canada, which may stall as parties could struggle to secure coalition deals for some time after the vote.
The Canadian Dollar is Cheap According to our Short-Term Fair Value Model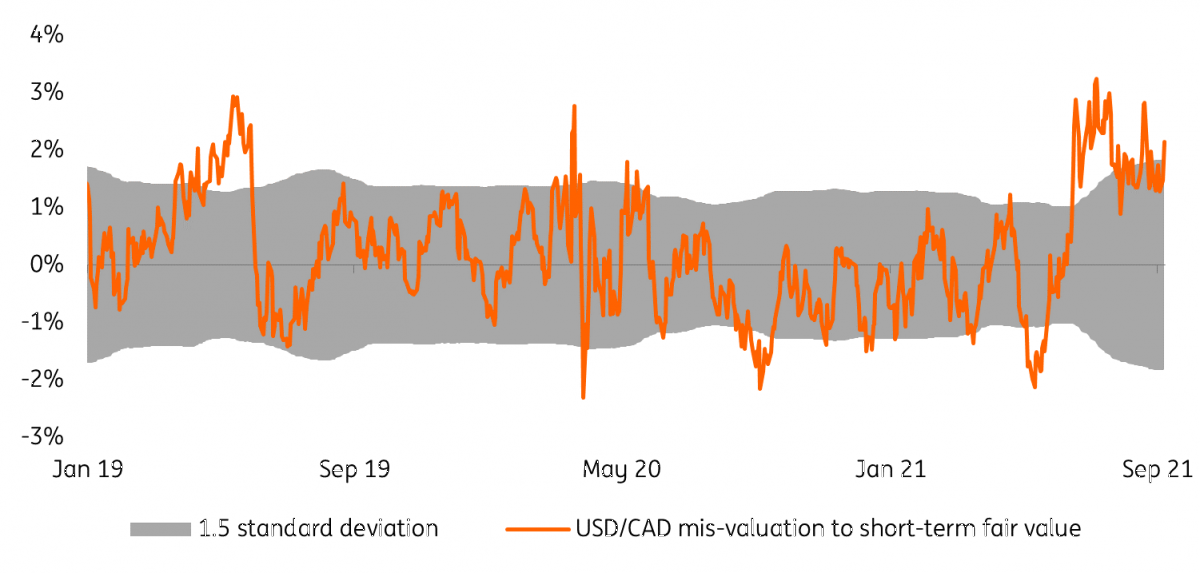 Source: Refinitiv, ING
We note that the Canadian dollar is trading quite cheaply according to our short term fair value model, which shows a 2.1% overvaluation in USD/CAD (chart above). This mis-valuation appears quite overstretched as it falls above the 1.5 standard-deviation band.
Disclaimer: This publication has been prepared by the Economic and Financial Analysis Division of ING Bank N.V. ("ING") solely for information purposes without regard to any ...
more