Bank Of Canada Preview: Pausing, But Still In Pole Position For Tightening
We expect the BoC 9 June meeting to be quite uneventful and to have a contained market impact. The Bank's concerns about a slower recovery should be offset by the fast vaccination campaign in Canada. We expect more tapering at the July meeting, which should allow CAD to trade below 1.20 in the summer.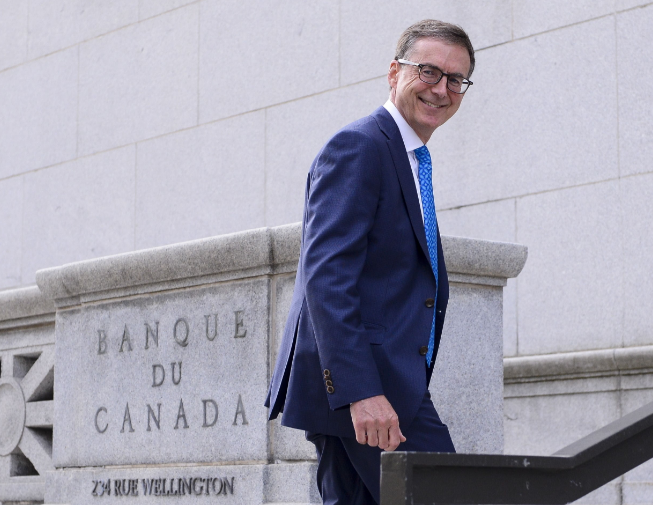 Fast vaccination roll-out keeps the outlook bright
While the pandemic continues to pose major challenges for Canada – a third wave of infections prompted renewed Covid containment measures in April – the economic outlook for the second half of the year is undoubtedly brightening. As such the Bank of Canada remains on track to taper its asset purchases again in July, conclude the QE program at year-end, and then raise interest rates in the second half of 2022.
Admittedly 1Q GDP was a touch softer than expected and April and May activity data will be hampered by the constraints from Covid containment, but things are changing rapidly. The vaccination program has been astonishingly successful over the past two months. The proportion of people having received at least one dose of the Covid vaccine has surged from below 15% at the beginning of April to overtaking that of the US at 60% today. This has been the result of the Canadian government's strategy to delay second doses hoping that the immunization provided by first doses will allow to contain hospitalizations.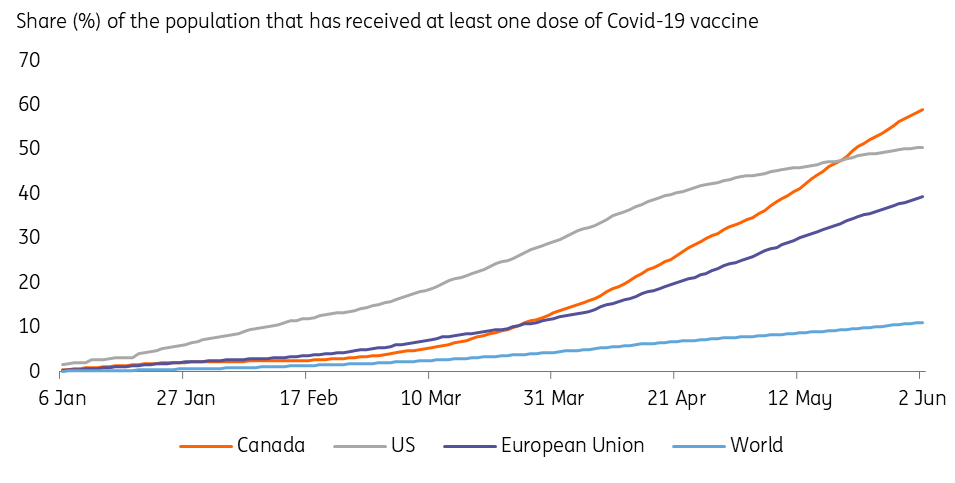 Source: Local sources, ING
The number of Covid cases is indeed dropping fast in response and we expect the bulk of the recently imposed restrictions to be eased just ahead of the summer vacation season. This should allow a broad re-opening of the service sector, which should rebound sharply and complement the vigorous growth experienced in the manufacturing, construction, and commodity sectors.
Employment has also stalled recently, but again we suspect the strong growth outlook means that both all of the lost GDP output and jobs will be fully recovered in the third quarter. This vigorous growth story, supported by additional fiscal support, together with supply constraints implies rising inflation pressures. Already the headline rate is at 3.4% and rising while core rates are at or around 2%.
Disclaimer: This publication has been prepared by the Economic and Financial Analysis Division of ING Bank N.V. ("ING") solely for information purposes without regard to any ...
more