Bank Of Canada Plays The Waiting Game
A more upbeat assessment of the economy doesn't change the fact that there is a lot of spare capacity. Despite fiscal stimulus coming through, the vaccination program is slower than in the US, which implies a slower reopening process and more muted inflation pressures. Still, some tapering may be signaled at the April meeting.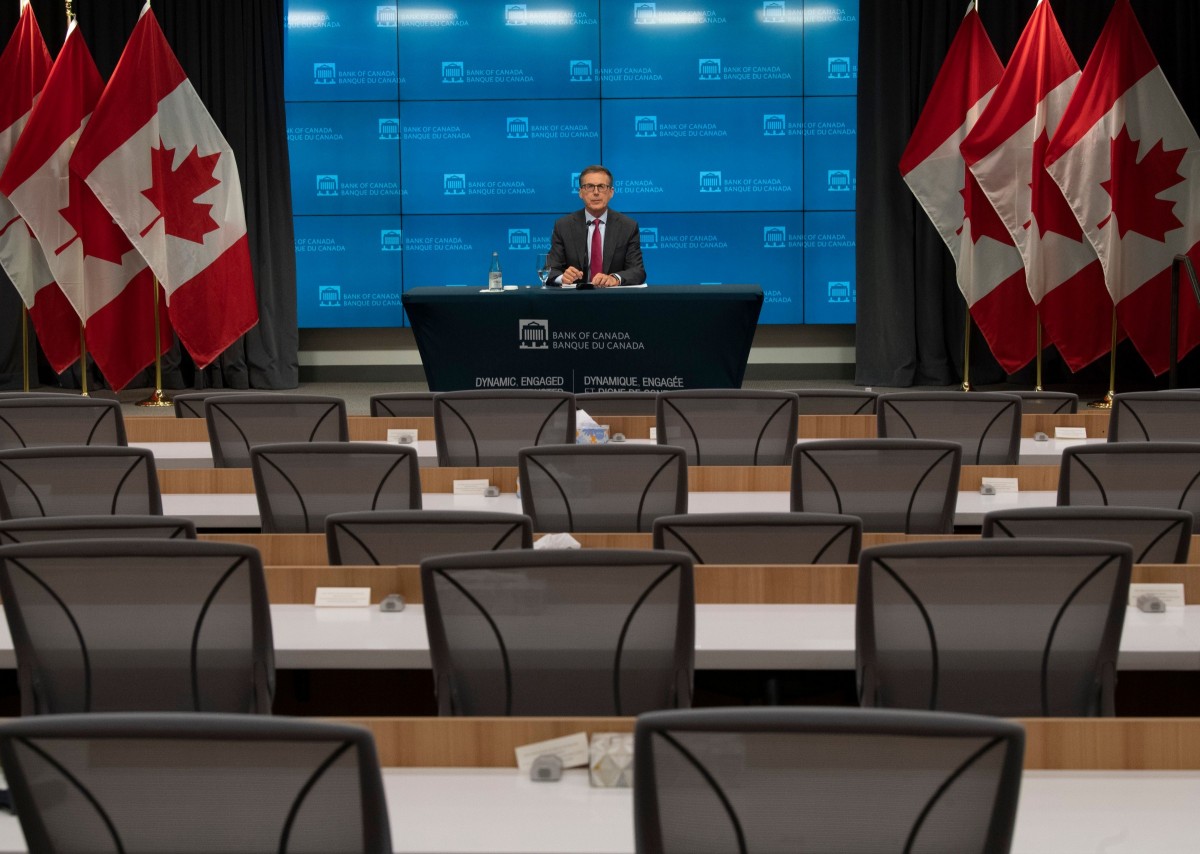 Bank of Canada Governor Tiff Macklem takes questions from reporters on the phone as he participates in a news conference at the Bank of Canada
On hold, but hints of positivity
The Bank of Canada has left monetary policy unchanged, with the overnight rate kept at 0.25% and the quantitative easing program of "at least C$4bn per week" continuing for now.
The commentary surrounding the near-term story is a little more upbeat than in January with the economy "proving to be more resilient than anticipated to the second wave of the virus". Consequently, the bank now expects a modest positive GDP number for 1Q rather than the contraction it had been penciling in back in January.
There is no talk of additional tapering (remember the BoC reduced asset purchases from C$5bn to C$4bn per week last October, but focused those remaining purchases at the longer end of the yield curve). Instead, the bank says that QE is set to continue "until the recovery is well underway". The next meeting in April could pave the way for an additional move given that it will be accompanied by new forecasts.
Nonetheless, the statement still warns of uncertainty and highlights the fact that there is "still considerable economic slack". This can be seen in the charts below with employment having fallen in the past two months on the back of new containment measures and the level of GDP still three percentage points below its pre-pandemic peak.
Canada employment and GDP levels versus pre-pandemic
(Click on image to enlarge)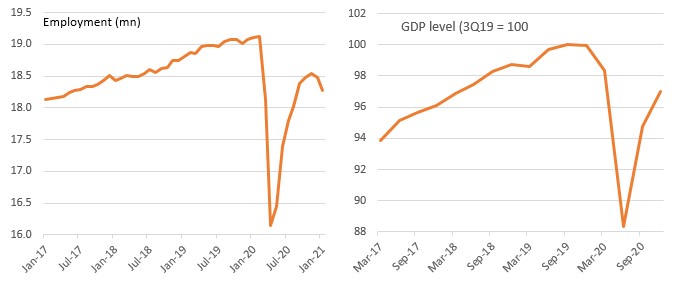 Sourcec: Macrobond, ING
2023 rate hike starting point looks on track
Disclaimer: This publication has been prepared by ING solely for information purposes irrespective of a particular user's means, financial situation or investment objectives. The information does ...
more