Australia's Imploding Housing Market Now Threatens To Unleash Nasty Recession
After a three-decade boom, the implosion of the Australian housing market could eventually push the economy into a recession.
Sydney median home prices are currently at $780,000, sitting 14.5% lower than in July 2017, adding to concerns the housing bubble has popped will send the economy into a recession and force the Reserve Bank of Australia (RBA) to slash interest rates below 1%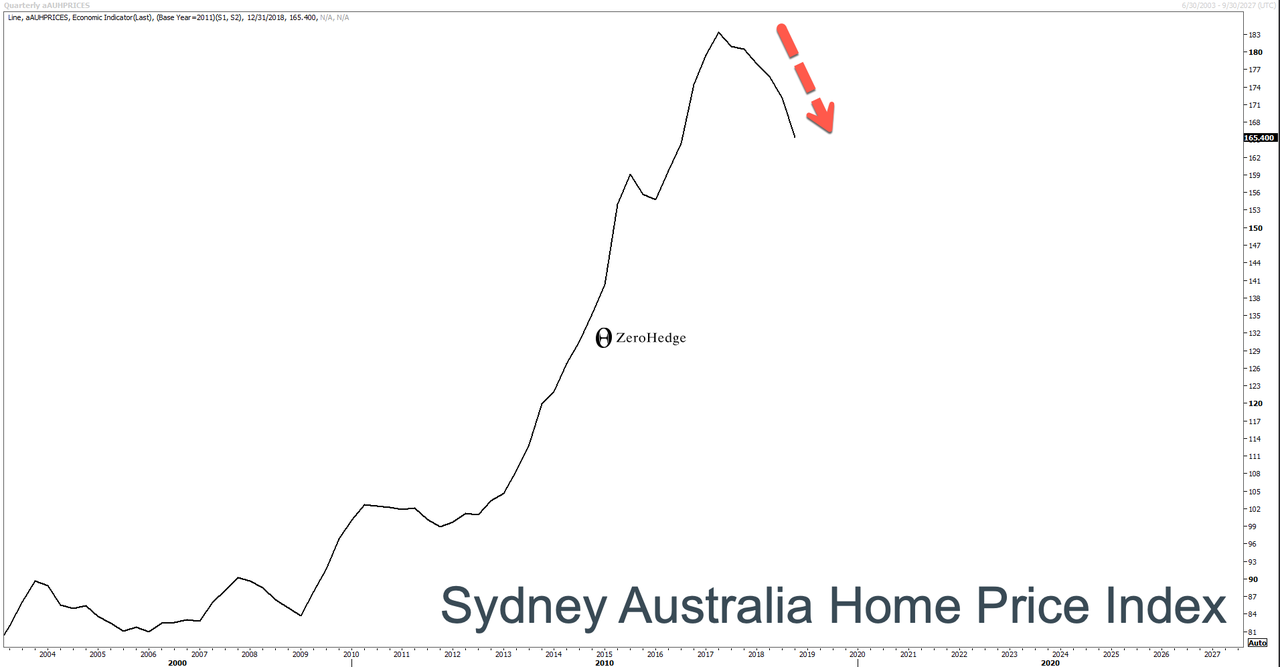 Last week, the RBA slashed its growth forecasts as the housing market slowdown has led to a decline in household spending. Rate traders are pricing in several interest rate cuts this year after it decided against easing.
"Growth in the Australian economy has slowed and inflation remains low," the RBA said. "Subdued growth in household income and the adjustment in the housing market are affecting consumer spending and residential construction."
Suburbs like Liverpool, Wiley Park, Eastlakes, Bondi Beach, and Bondi are considered the most vulnerable housing markets to crash this year, reported Real Estate Institute of New South Wales (REINSW).
The analysis also indicated suburbs like Glebe, Parramatta, Fairfield, and Redfern would see further price declines.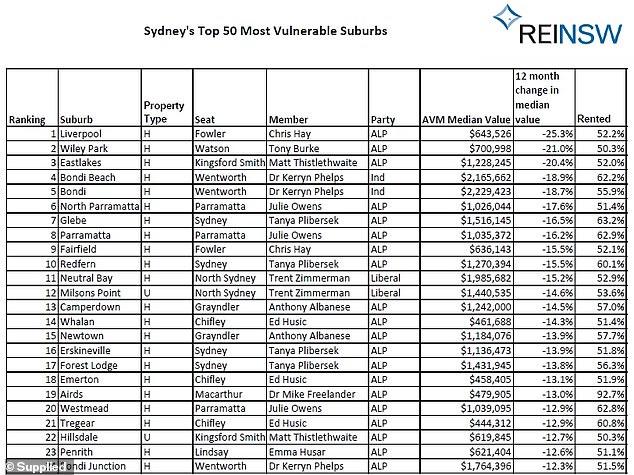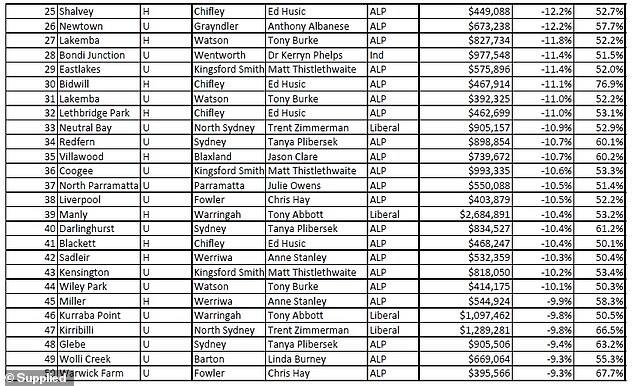 Most of these suburbs have at least 50% of the homes owned by investors for rentals, making their price vulnerable if investors need liquidity.
"The data identifies those suburbs that have a high proportion of rental properties and which have already suffered double-digit falls in property values," said REINSW CEO, Tim McKibbin.
McKibbin said the possibility of new government policies could cause investors to sell will reduce demand at a time when liquidity is needed. This, in turn, will cause market panic.
"On this basis, new policies that cause investors to exit will reduce the number of buyers in the market further. This in turn will escalate the losses in valuem" he added.
Tregear is No. 21 on the most vulnerable list, could have home prices drop if Labor wins the May 18 federal election and outlaws negative gearing, according to recent research.
Disclosure: Copyright ©2009-2018 ZeroHedge.com/ABC Media, LTD; All Rights Reserved. Zero Hedge is intended for Mature Audiences. Familiarize yourself with our legal and use policies every ...
more