Australian Dollar Market May Be Calmer, But Watch Trade Headlines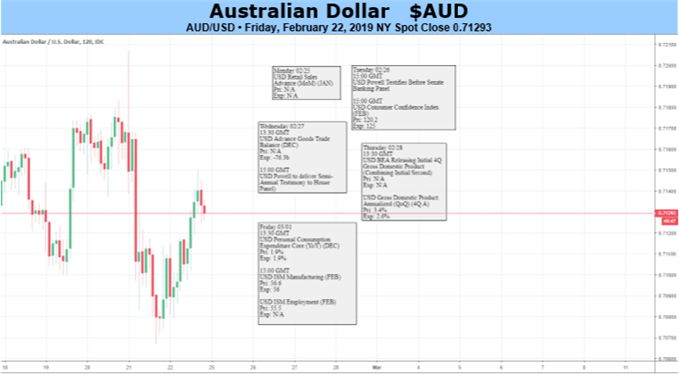 Fundamental Australian Dollar Forecast: Neutral
The Australian Dollar has had another torrid week
Domestic data were strong but overall risk appetite still drives
The coming sessions look likely to be calmer, but don't bet too much on that
The Australian Dollar endured another roller-coaster ride last week with domestic economic data and international events all throwing it around. Judging by the calendar alone, the coming sessions may be calmer. However, left-field-event potential remains high.
Let's take a look at how we got here.
Long revving nicely, the Australian labor market was revealed last week to have selected another gear in January. Fully 64, 500 full-time jobs were created over the month, the brightest spot in a pretty glowing overall report.
However, all the gains made by AUD/USD on that release were erased and then some by reports suggesting that China would ban Australian coal imports at the key dock site of Dalian. This looked to be a clear sign of deteriorating trade relations between Australia and its major export customer. However, China later appeared to be denying that any such ban was contemplated, saying instead that it was merely increasing quality checks on important coal from all destinations.
Still, the Australian Dollar also remained broadly pressured by developments from earlier in the month, notably the RBA's admission that all-time low interest rates could yet fall further.
Reserve Bank of Australia Governor Philip Lowe last week reiterated that the risk to interest rates ahead was broadly balanced in his view. Futures markets still beg to differ though. They resolutely price in a reduction in the record-low, 1.50% Official Cash Rate by the end of the year.
This week offers a very modest Australian economic data calendar which will probably leave trade headlines between Beijing and Washington to drive the currency. The Aussie acts as a global growth proxy in any case, and a trade deal would be the biggest obvious growth fillip on offer at present. More specifically Australia has huge interest in the outcome of these talks given its close ties to both the US and China.
Disclosure:
Find out what retail foreign exchange traders make of the Australian Dollar's prospects right now, in real time, at the more