Asia Leads Natural Gas Demand
Last week John Kerry, Climate Czar, warned that natural gas pipeline assets could become "stranded assets" within 30 years. Democrat attitudes toward fossil fuels remind one of St. Augustine ("Lord, make me chaste—but not yet."). Three decades of debauchery before celibacy shows self-discipline, under the circumstances. Since Biden now owns U.S. climate change policy, indulging the fantasies of climate extremists must be balanced with keeping the lights on.
Fortunately, bond investors' optimism extends farther still. Transco, a wholly-owned subsidiary of Williams Companies (WMB) and operator of the eponymous natural gas pipeline network, has numerous long-term bonds outstanding with yields of 3-3.5%. Transco 3.95% 5/2050 bonds trade at 3.28%, within 1.5% of the U.S. 30 year bond.
Investors and management of natural gas assets recognize that they offer the fastest path to lowering emissions, not solar panels and windmills. Power generation from renewables will grow to be sure, but with global energy consumption expected to increase by half through 2050, every energy source will grow.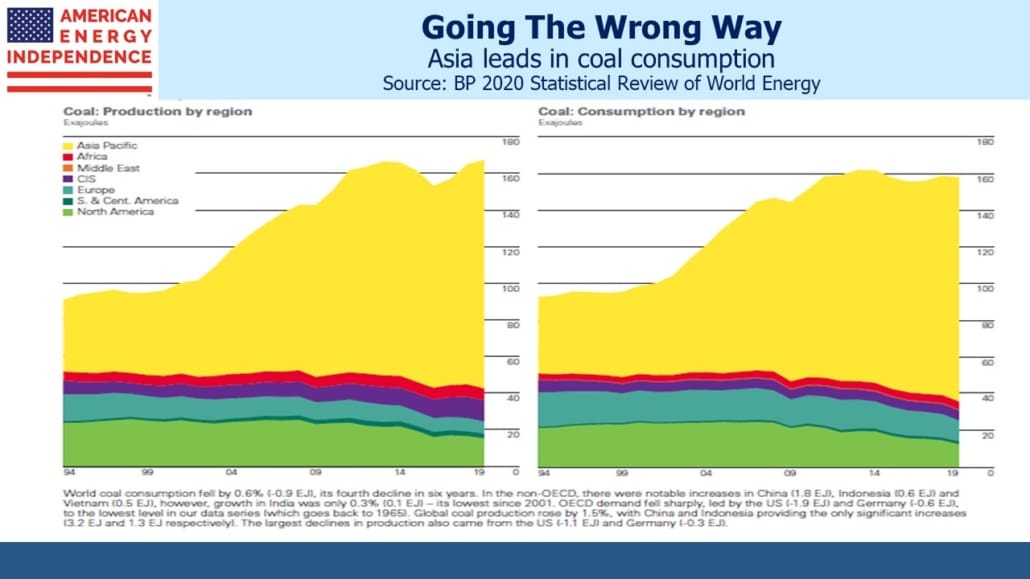 Last week we chatted with senior management from Tellurian (TELL), to discuss their plans for exporting Liquified Natural Gas (LNG). Reaching a Final Investment Decision (FID) to construct their Driftwood export facility in Louisiana relies on getting enough customers signed up. Japan is the world's biggest importer of LNG, with China second. Asia is almost three-quarters of global LNG trade, therefore critical to global trends.
News in recent months has been encouraging. Extended cold weather in northeast Asia drove spot LNG prices to over $35 per MCF, more than 10X the U.S. benchmark at Henry Hub. Prices have eased since, but the January 2022 JNK futures trade at $8, a sufficient premium to U.S. prices to cover transportation costs.
TELL management sees LNG as critical to emerging Asia, as it struggles to reconcile the desire for rising living standards with controlling emissions. China intends to increase its emissions for at least the next decade, notwithstanding their vague commitment to get to zero by 2050.