Are You Ready For The January Effect?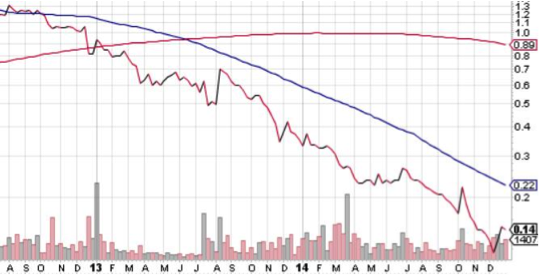 Discovery is reaping shareholders rewards so worth watching is a uranium junior, Lakeland Resources Inc. (LK:TSX.V) (LRESF), exploring in the Athabasca Basin. A great way to leverage any uptick in the uranium price is Uranerz Energy Corp. (URZ:TSX) (URZ). [Writer's Note: This interview was conducted on Friday, Jan. 2, 2015. On Monday, Jan. 5, Uranerz announced an all-share buyout by Energy Fuels Inc. (EFR:TSX) (UUUU).
Great Panther Silver Ltd. (GPR:TSX) (GPL) is on top of the list of producers that are well positioned to take advantage of an uptick in gold and silver prices. Kootenay Silver Inc. (KTN:TSX.V) discovered and is developing the Promontorio project into an open-pit mine in Sonora, Mexico. The company recently drilled one of many prospects on its immense project and discovered another significant high-grade silver deposit, La Negra.
New Carolin Gold Corp. (LAD:TSX) (MDULF) is an exciting gold project. The company is working old mines in an underexplored area in southwestern British Columbia. Success here could open up a lot of people's minds about junior mining overall.
Diamonds are exciting and could certainly lift the Toronto Stock Exchange out of its funk. Two to watch in the new North Saskatchewan Craton Diamond Play are Strike Diamond Corp. (SRK:TSX.V) (SRKZF) and Athabasca Nuclear Corp. (ASC:TSX.V)(YWRLF).
Nickel is definitely a metal to have on your radar screen. Today nickel sulfide discoveries are as rare as chicken teeth, but North American Nickel Inc. (NAN:TSX.V) (WSCRF) has found an incredible amount of smoke in Greenland and should find fire soon. Meanwhile in Canada, Equitas Resources Corp. (EQT:TSX.V; T6U1:FSE) (EQTRF) is just getting going. It has a large prospective for nickel property in the right type of rock in the right place.
In the copper space the low-hanging fruit has been picked but VMS Ventures Inc. (VMS:TSX.V) (VMSTF) is a junior producer that owns 30% of the now producing high-grade Reed copper mine. Carmax Mining Corp. (CXM:TSX.V)(CAXPF) has an exciting copper-gold project, the Eaglehead, in northwest British Columbia.
1) JT Long conducted this interview for Streetwise Reports LLC, publisher of The Gold Report, The Energy Report, The Life Sciences Report and The Mining Report, and provides services to ...
more