Amsterdam Housing: Falling Investment Returns Put Downward Pressure On Prices
Lower rental income, increasing property prices, and increased taxation levels are all decreasing expected returns for Amsterdam's residential property investors, decreasing the relative attractiveness compared to alternative investment opportunities. Expect all of this to put further pressure on residential property prices in Amsterdam.
Downward pressure on Amsterdam residential property prices
The expected direct returns of private investors on a typical Amsterdam residential investment property declined between 4Q19 and 4Q20 due to lower rental income and higher residential property prices.
The decline in returns is comparable to the fall in government bond yields in the same period but considerably smaller than the fall in the expected earning yields on shares (-170 basis points).
Private residential property investors are likely to adjust the price they're willing to pay for residential property in Amsterdam as they now expect lower returns
The higher transfer tax for residential property investors introduced on 1 January 2021 has further reduced the direct return by about -40 basis points, which means private residential property investors are likely to adjust downwards the price they're willing to pay for residential property in Amsterdam as they expect lower returns.
Rents in Amsterdam drop in 2020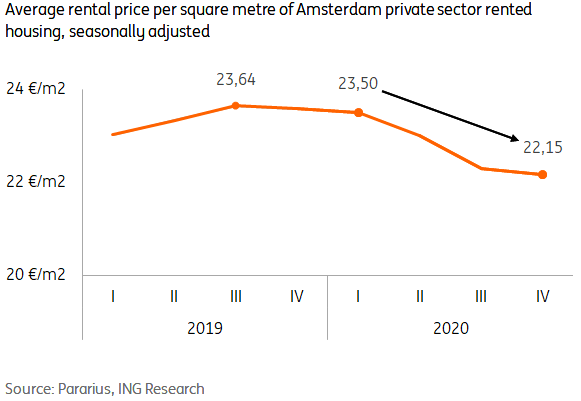 Amsterdam private sector rents fell by 6% in 2020
Between 2014 and 2019, rents in Amsterdam's private sector rose by nearly 26%. This substantial increase slowed down the demand for rental properties, putting downward pressure on rents.
But since the peak in the second half of 2019, rents have been dropping. After the peak seen in 3Q19 (€23.6 per m2), average rents have fallen for five consecutive quarters. In 4Q20, the average rent was €22.2, or 6.1% lower than in 4Q19.
The pandemic has added fuel to the fire
In 2020, the pandemic further increased the downward pressure on Amsterdam's private sector rents too. This is due to the sharp decline in the inflow of foreign immigrants - including expats and knowledge workers - to Amsterdam, reducing the demand for private sector rental housing in the past year.
Disclaimer:
This publication has been prepared by the Economic and Financial Analysis Division of ING Bank N.V. ("ING") solely for information purposes without regard to any ...
more