Alibaba Shares Tumble As PBOC Makes Clear: Ant Group May Be "Torn Apart"
While Jack Ma's return to public view yesterday (following a roughly 3-month absence) was briefly reassuring for Alibaba shareholders, reality apparently set in on Thursday as the company's shares tumbled again in Hong Kong, falling roughly 3%, after the People's Bank of China published a batch of new draft antitrust rules which seemed to play at investors' worst fears.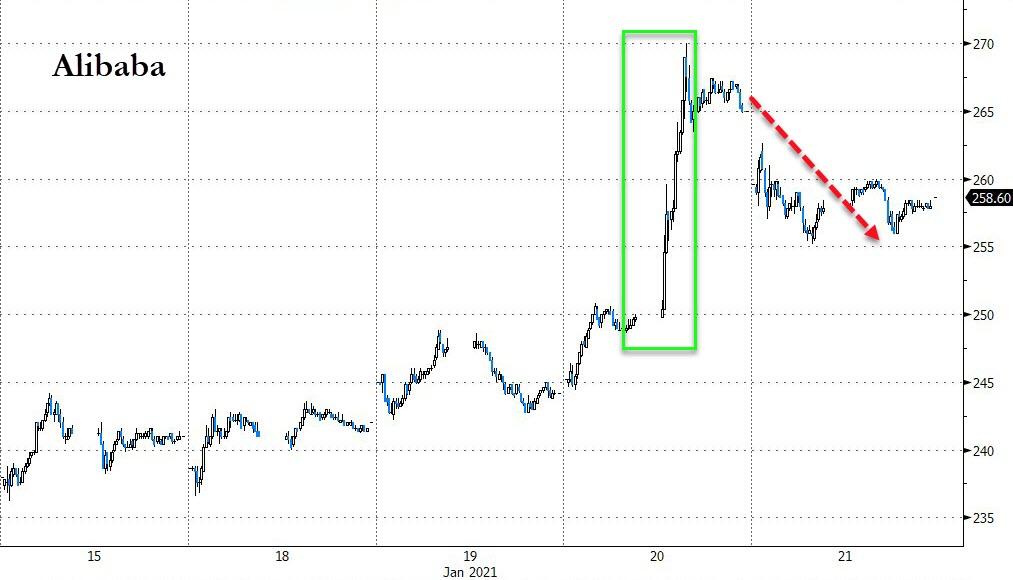 For those who haven't followed the story, Alibaba founder Jack Ma, until recently the richest man in China, kicked off what has morphed into a multi-front war by the CCP on China's biggest tech giants when he offered a handful of seemingly innocuous criticisms of Beijing's tech regulatory structure during a late-October tech conference.
Ten days later, Beijing abruptly canceled Ant Group's $37BN Shanghai Stock Market debut. The spinoff of what is essentially Alibaba's consumer payments and financial services wing was expected to be the biggest IPO on record. Only then did the world begin to realize that Ma's transgressions wouldn't simply be waved away.
Ma's Oct. 24 tech conference appearance would be the last time he was seen in public until yesterday's publication of a pre-recorded video wherein Ma praised China's teachers while promising that he and his "colleagues" - presumably China's billionaire class - would be tending more devotion to the "public welfare".
The PBoC released the first draft of potential new anti-trust regulations targeting Alibaba late last year, and now it appears another set of rules has been refined to specifically target Ant - but not Ant alone. Both Ant, and its popular Alipay service, and rival Tencent, and its rival WeChat Pay, the country's 2nd-largest payments service after Alipay, will also be targeted.
In other words, it appears the CCP is taking the breakup of its own big tech space a step beyond even the most aggressive analyst expectations, and way beyond anything that will likely be seen in the US 'Big Tech' space.
Disclaimer: Copyright ©2009-2021 ZeroHedge.com/ABC Media, LTD; All Rights Reserved. Zero Hedge is intended for Mature Audiences. Familiarize yourself with our legal and use policies every ...
more