3 Energy Stocks To Double When Crude Moves Higher
Tim Plaehn has just discovered a unique fact about the global oil industry. He believes that one small event, that is already starting to take place in the Middle East, could send oil prices skyrocketing. You do not want to miss out on these three investments that will soar when this event takes place.
A lot of energy company analysis and information about the state of the global crude oil situation has come across my desk over the last few days. In my opinion, much of the now accepted status quo about crude oil price could upend very quickly, leading to higher, much higher crude prices. What follows are some very interesting data points and a couple of investment ideas that would make you a lot of money if crude moved up by gains measured in tens of dollars per barrel.
There is a very big difference between the North American crude oil exploration and production (E&P) sector and the rest of the world. Over the last decade, the advent of horizontal drilling and fracking techniques has allowed North American E&P companies to double their output to over 16 million barrels per day, while the rest of the world is producing the same amount of oil it was a decade ago. The current one to 2.5 million barrels per day of excess production that has resulted in the steep drop in the price of oil is entirely due to the production growth in North America. Currently global crude demand is about 93 million barrels per day, growing at about 1 million barrels per day per year. Note that the excess production that is causing all of the turmoil in the energy sector is a very small number compared to total global consumption.
Here is a chart from a newly posted presentation by the largest MLP by market cap, Enterprise Products Partners (NYSE:EPD):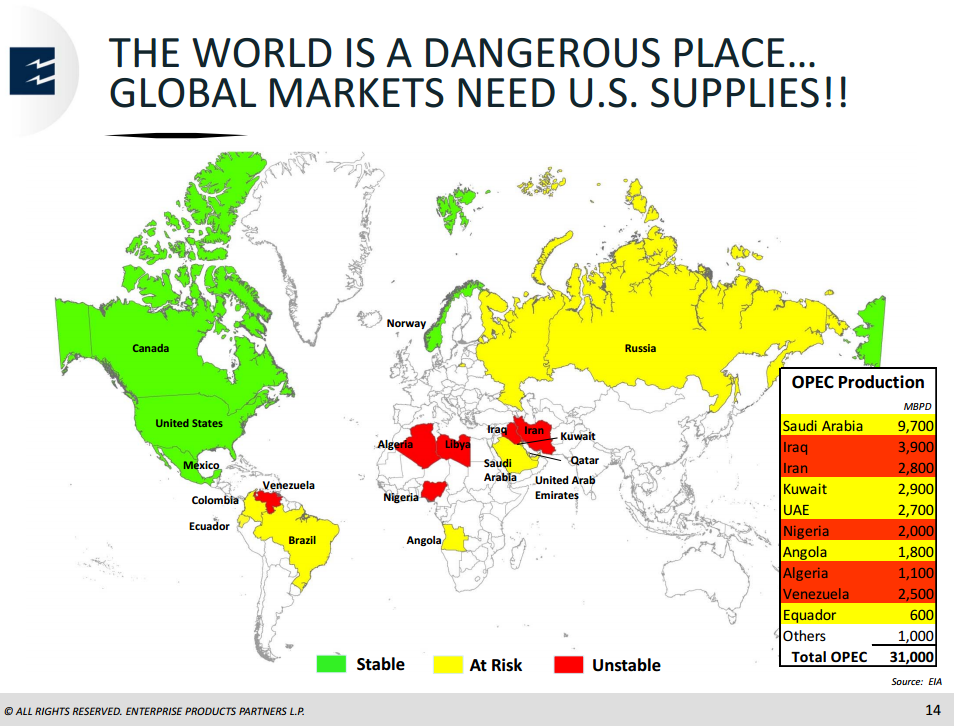 A few calculations on my handy calculator show that 12.3 million barrels per day of OPEC production are in the unstable Red category. It would just take a political or another type of oil disruption in one country such as Venezuela or Iraq to quickly turn crude from a production oversupply to a shortage. Just today I read this quote from the Wall Street Journal:
REITs that raise their dividends, like the ones above, have been an integral part of the income strategy with my newsletter, more