2021 Outlook For Belgian And Dutch Housing Markets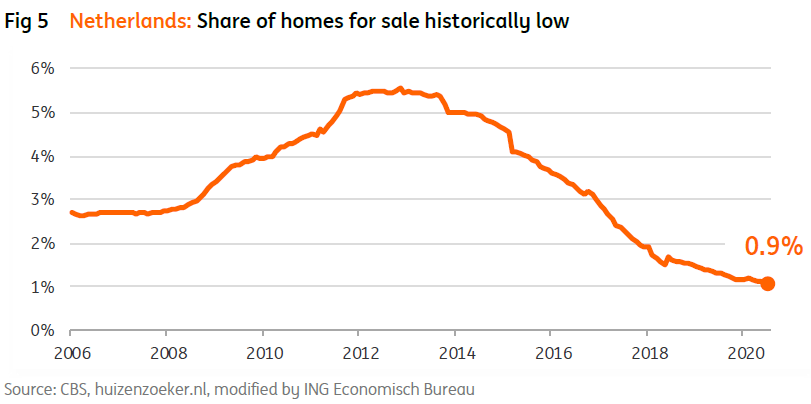 1) Affordability maintained in 2020
Two factors positively affected the affordability of homes in 2020: disposable income increased on average, while unemployment among potential home buyers remained low. It was mainly young people with flexible employment contracts that faced unemployment due to the COVID-19 pandemic in 2020. In combination with a further fall in mortgage interest rates of around 0.3ppt on average, this has sustained the affordability and demand for homes.
2) Increased activity by investors in 2020
Investor interest in the housing market has increased further. In the first half of 2020, private landlords accounted for about 20% of all home purchases, a higher rate compared to the same period in 20191. This has put extra upward pressure on house prices. An increase in transfer tax from 2% to 8% for buy-to-let houses as of January 2021 has led to a year-end rush by investors, providing further upside pressure to the market in 2020.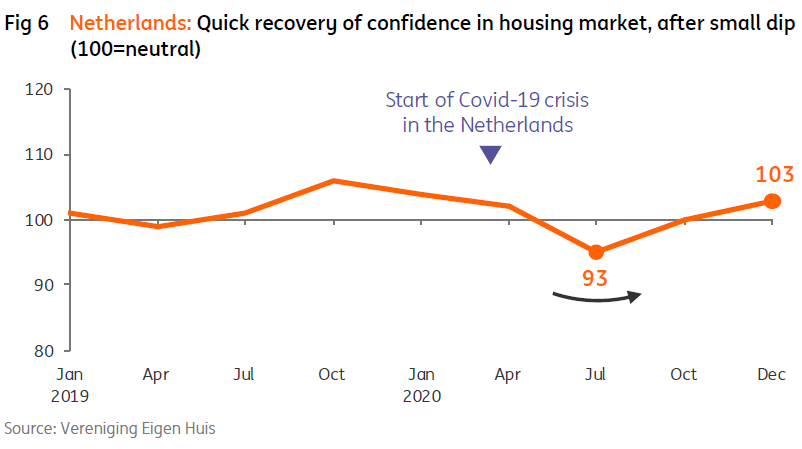 Confidence bounces back to normal and further tightening of housing market
Unlike in previous economic crises, Dutch consumers have remained confident in the housing market. This partly explains the 7.7% increase in the number of home sales in 2020 compared to 2019. A further tightening of the housing market has been the result, as becomes clear from the share of owner-occupied homes that are for sale. This share fell from 1.2% to 0.9% during 2020, the lowest level ever reported. The rapid recovery of confidence in the housing market can be explained by two factors. First, as already mentioned, income losses of potential home buyers have so far been limited. This is due to the government's stimulus policy in response to the crisis. Second, the COVID-19 crisis is not caused by vulnerabilities in the economy, but has an epidemiological cause and rapid economic recovery seems possible once the virus is under control. Both factors contributed to the quick recovery of confidence in the housing market in the second half of the year, after a small decline from April to July. The quick recovery of confidence has prevented a drop in home sales and resulted in a further tightening of the housing market in 2020. This helps to explain last year's strong activity in the Dutch housing market.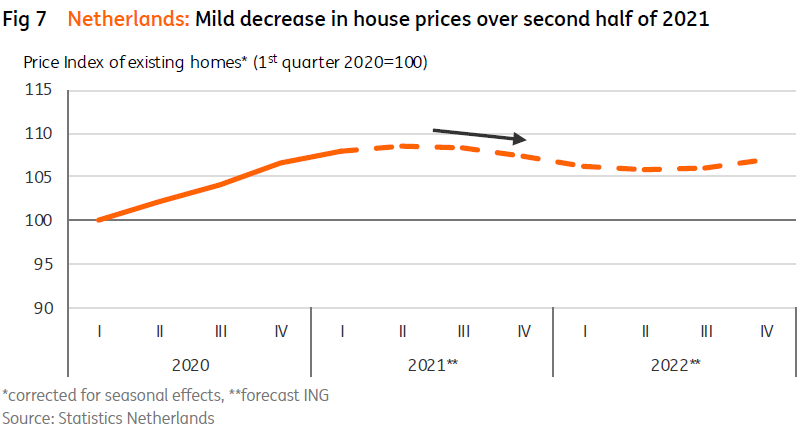 Base case for 2021: cooling down of the housing market
ING takes a cooling down of the Dutch housing market as base case for 2021. The economic impact of the COVID-19 crisis and phasing out of government support will lower confidence levels in 2021. And unlike in 2020, the crisis will increasingly affect people with fixed employment contracts in 2021. As a result, potential home buyers will more often postpone their purchasing plans. A gradual increase in interest rates with a more moderate wage increase than in 2020 will, on average, mean affordability declines. First time buyers – about 30% of the market - will experience a windfall, as for them the transfer tax of 2% no longer applies. Higher interest rates, higher transfer taxes for buy-to-let and lower rents will, on the other hand, discourage investors. Hence, in our base case scenario we assume a flattening of price increases in the first half of 2021, followed by a mild decline in house prices continuing until the beginning of 2022. At the lowest point, we see house prices about 2.5% lower on average than the price peak in 2021. On an annual basis, house prices in our base scenario are still 5.0% higher compared to the 2020 average2. Home sales are expected to fall by 10% in 2021 compared to last year, due to lower confidence levels and the limited supply of homes.
Disclaimer: This publication has been prepared by ING solely for information purposes irrespective of a particular user's means, financial situation or investment objectives. The information ...
more