2021 Outlook For Belgian And Dutch Housing Markets
Given the pandemic, the steep house price increases seen in both Belgium and the Netherlands last year were a surprise. However, three factors helped to drive confidence and demand in the housing market. Firstly government support, secondly, increased investor activity and finally a further decrease in interest rates improved affordability of homes.
Belgium
House price growth was unexpectedly strong in 2020 in Belgium. Income support provided by the government, increased activity by investors and low interest rates can explain the strong growth. Looking at 2021, we expect the upward pressure from these factors to fade, leading to more modest growth figures for the year.
Interest in residential real estate in Belgium recovered rapidly after the first lockdown in March 2020. The number of Google searches made to well known Belgian real estate websites even rose to a level that was higher than before the lockdown and a recovery in the number of transactions followed.
There is evidence that housing preferences shifted during the crisis with more interest than usual in houses and apartments that were larger and had a garden or terrace.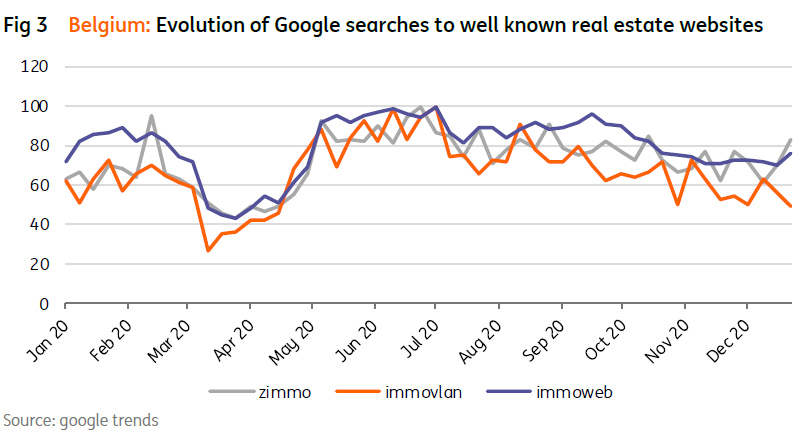 Despite the rapid recovery in activity, the number of transactions for 2020 as a whole is expected to be much lower compared to 2019 (official figures will only be published in April). This is obviously due to the disruption from COVID-19 lockdowns, but also to do with the abolition of the 'woonbonus' in Flanders, a system of tax deduction for households with a mortgage. The announcement of the abolition led to a rush on real estate at the end of 2019.
House price evolution is expected to be remarkably positive when official figures for 2020 as a whole become available in April. Unofficial sources point to house price increases of close to 6%. Part of this sharp growth could be explained by the shift in preferences by house buyers towards more expensive houses. If a greater number of expensive houses was sold during 2020 compared to 2019, then the median price will increase. So part of the price increase might be explained by a composition effect.
But there are also several macroeconomic factors that explain the vibrant price evolution. A first crucial factor is the interest rate. The European Central Bank did everything it could to keep the market rate down and we see that this translated into a decline in the average mortgage rate in Belgium in 2020. Low mortgage rates are a fundamental aspect of the purchasing power of households as a small change in the mortgage rate has a large impact on the loan capacity. If the mortgage rate drops from 1.7% to 1.4%, as it did over the course of 2020, then the loan capacity increases by 3% for a mortgage with a maturity of 20 years.
Disclaimer: This publication has been prepared by ING solely for information purposes irrespective of a particular user's means, financial situation or investment objectives. The information ...
more