EC

Two Potentially Important Notes For Consumer Credit
As expected, the Federal Reserve reported today that consumer credit expanded by an unusually large amount in November. Non-revolving debt rose by $16.6 billion, which is only slightly more than the recent average, and less than the average flow three years ago. It was instead revolving consumer credit where balances expanded the most (+$11.2 billion). As noted last week, that is in keeping with what appears to be renewed weakness in the labor market following a small uptick mid-year last year.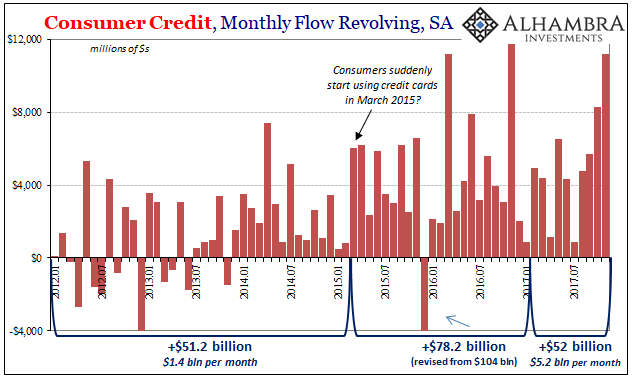 For November, it was one of the largest one-month gains for revolving credit going back to the Great "Recession." While there has been some debate about what that means in trying to assess the overall economic conditions, and the health of consumers within them, I don't believe there is much to argue about. The timing of this change (March 2015) as well as its rather obvious correlation with the labor slowdown strongly suggests consumers have at the margins exhausted all but their last option. It's very different employment data than you would expect to find coupled to recovery-like risk-taking behavior.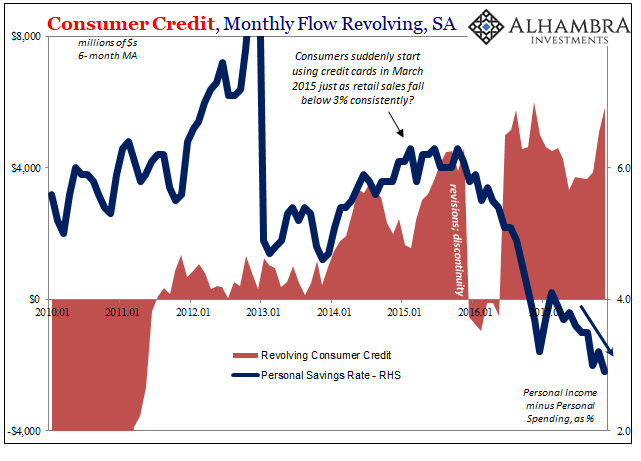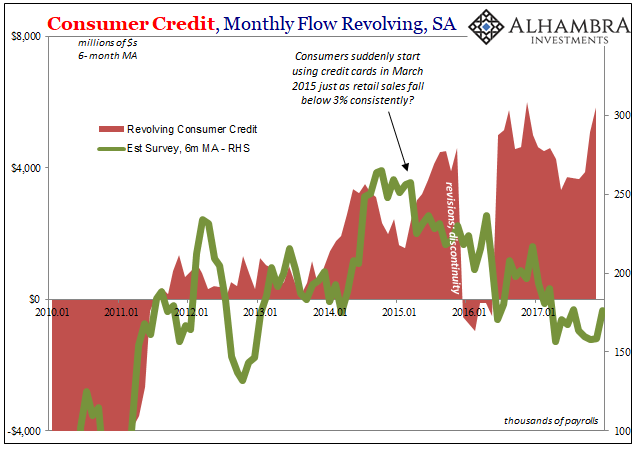 I would also add to that mix the differences in conduct from among the various classes of credit issuers. If we divide the consumer credit universe into the banking sector versus the non-banking sector, a clear and possibly relevant divergence emerges.
We do have to keep in mind that there are large discontinuities peppered throughout the Federal Reserve's consumer credit data, so the direct comparisons made here should not be taken strictly at face value. There is, however, enough time given these results to make what are, I believe, reasonable though far from definitive inferences.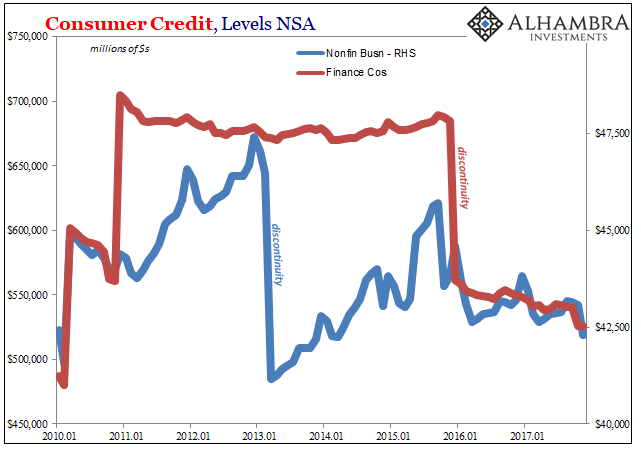 Non-bank issuers of consumer credit (both types, revolving as well as non-revolving) have been reducing their outstanding loans. The degree to which they have done so is impossible to estimate given the disruptions of data revisions, but regardless of them over the past several years these non-banks have been scaling back their consumer credit portfolios.