DeFi Boom Sends Ethereum To New Record Highs As Traders Digest $10,500 Target
Bitcoin (BITCOMP) and cryptocurrency markets have been rebounding this week after the prior week's sell off.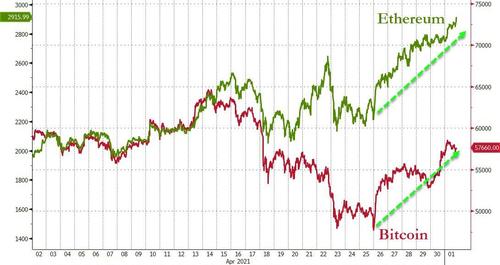 Source: Bloomberg
A combination of de-leveraging, Bitcoin falling below its 50-day moving average, notable Wall Street firms forecasting a major correction to $20-30 thousand, and the Biden tax plan all took us lower last week. But markets have stabilized and bounced since then.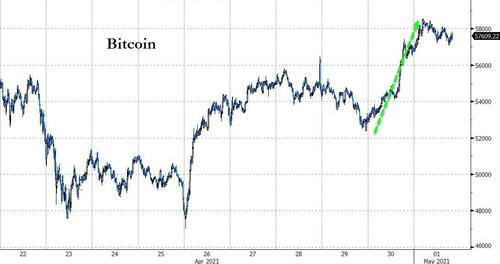 As FundStrat mentioned in a note two weeks ago, we thought a "crypto market cooling off would be healthy." We've seen the price of Bitcoin retrace a little over ~25%, which would qualify as a major correction for traditional markets, but is par for the course in crypto during bull market cycles.
While we're not technical traders, Bitcoin falling below its 50-day moving average gives us less concern given this has happened several times during the prior bull market cycle, and it's the 200-day that Bitcoin has historically maintained during prior bull runs. As FundStrat discussed earlier, they believe the bull market remains intact and they are maintaining our $100 thousand Bitcoin price target.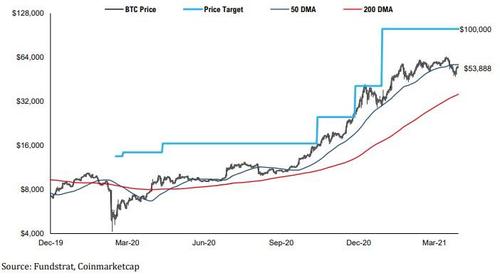 We think the macro backdrop remains bullish for crypto assets. The Fed's recent guidance that it plans to remain accommodative should be supportive for risk assets like cryptocurrency. In our January 2021 Crypto Outlook, we predicted corporations would be entering crypto markets in a bigger way this year.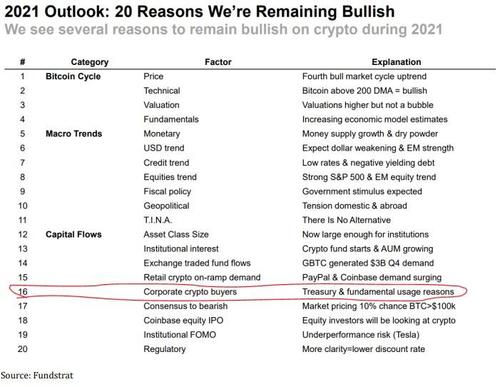 We think this is starting to happen more and this will be one new source for capital flows into the cryptocurrency economy. Tesla (TSLA) grabbed news headlines by announcing it had purchased $1.5 billion of Bitcoin earlier this year and again drew the spotlight the other day by announcing that they had sold a relatively small amount for a $100 million profit to, in Elon's words, "prove the market liquidity."
Rumors were even flying around that Facebook (FB) may be reporting Bitcoin on its balance sheet with its earnings release – this proved to be untrue, but we believe even if Facebook didn't buy Bitcoin, the corporations are coming, and it just may not be reflected in earnings announcements yet.
Disclosure: Copyright ©2009-2021 ZeroHedge.com/ABC Media, LTD; All Rights Reserved. Zero Hedge is intended for Mature Audiences. Familiarize yourself with our legal and use policies ...
more