Crypto Clubbed Overnight - What Happens Next?
Cryptocurrencies have taken a spill in the last 24 hours, with Bitcoin (BITCOMP) sliding from over $41,000 to below $38,000.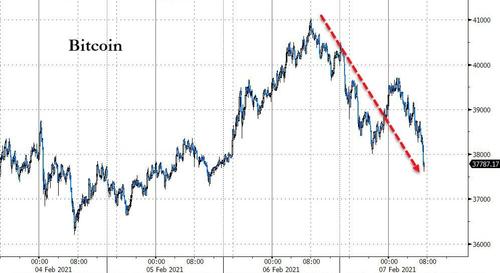 Source: Bloomberg
Additionally, Ethereum (ETH-X) has erased some its recent spike gains quite quickly.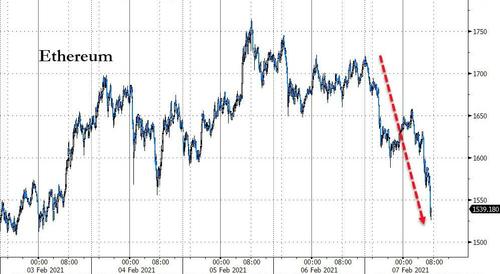 Source: Bloomberg
As Decrypt reports, it's worth noting that Ethereum's crash comes a day before the Chicago Mercantile Exchange launches ETH futures. The CME's futures are thought to bring a bucket-load of money to Ethereum since it comprises a regulated, efficient way for institutional investors to speculate on the future price of the coin.
It could also be the case that traders are exiting their positions ahead of the listing; CME's ETH futures contracts make it a lot easier for institutional investors to short ETH—in other words, bet against it.
CME launched Bitcoin futures on Dec. 17, 2017, the day after Bitcoin hit its highest price for that bull run, $19,015. Thereafter, Bitcoin's price tumbled downhill, marking the end of the bull run. That said, 2021's crypto market doesn't look a lot like 2017.
"A retest of $1,450 was always going to happen, with or without CME," one trader told Decrypt, who thinks that the worst is yet to come. Others see opportunity in the dip. "I feel like I need to take the plunge," said another. "I've been delaying this decision 'for a better time.'"
But, while the major coins are suffering, the retail-frenzied 'GameStop effect' now seems to be spilling over to digital assets like Dogecoin (DOGE-X) and Ripple (XRP-X) through r/Wallstreetbets' crypto wing, r/Satoshistreetbets. Jay Hao, CEO of crypto exchange OKEx, told Cointelegraph that there is a deeper cause driving this current phenomenon:
"There is a great sense of injustice about some of the opaque practices of Wall Street and the unfair distribution of wealth. I believe that more and more of society is beginning to wake up to this fact, particularly with the K-shape recovery that we are seeing in which high-net-worth individuals have increased their wealth during the pandemic. With more platforms allowing retail investors direct access to invest in equities, we are seeing a democratization of the investment space and more power in the hands of the people."
Disclosure: Copyright ©2009-2021 ZeroHedge.com/ABC Media, LTD; All Rights Reserved. Zero Hedge is intended for Mature Audiences. Familiarize yourself with our legal and use policies every ...
more