Bitcoin Surges Above $24K, Shrugging Off US Treasury Custody Comments
The U.S. Treasury Department said Friday it is proposing new requirements involving convertible virtual currencies that would require banks and other intermediaries to maintain records and submit reports to verify customer identities for certain transactions. But instead of the typical lurch lower, Bitcoin (BITCOMP) has extended its recent run to new record highs above $24 thousand, breaking out of a 36-hour range.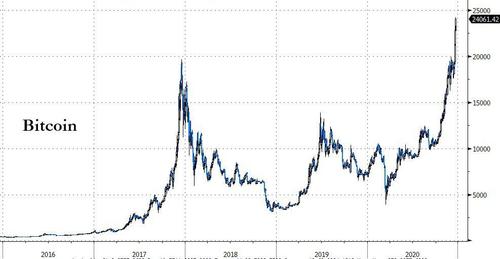 Source: Bloomberg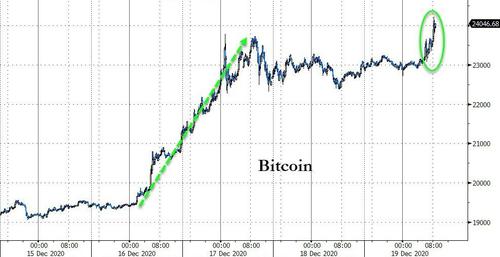 Source: Bloomberg
As CoinTelegraph's Joseph Young notes, the threat of new crypto sector-focused regulations is a credible event which has negatively impacted crypto prices in the past, but this time around there are a few reasons why the proposed rule probably will not lead to a Bitcoin price crash.
The Possibility Of Regulation Is Priced Into The Crypto Market
Initially, industry executives expressed major concerns when Coinbase CEO Brian Armstrong shared what he had heard about the planned rule.
Last week we heard rumors that the U.S. Treasury and Secretary Mnuchin were planning to rush out some new regulation regarding self-hosted crypto wallets before the end of his term. I'm concerned that this would have unintended side effects, and wanted to share those concerns.

— Brian Armstrong (@brian_armstrong) November 25, 2020
These worries were amplified when Circle CEO Jeremy Allaire told Ryan Selkis that the possible regulation could be detrimental to the entire cryptocurrency sector. The comments from the two industry heavyweights led the entire industry to become cautious about the planned rule proposal.
However, recent reports suggest that the rule might require multiple transactions that are equivalent to $10,000 a day to be reported by financial institutions. Compared with the initial rumors about the rule, it is arguably less rigorous than it appeared. In fact, some experts say the proposed rule is similar to the existing FATF travel rule.
Considering that the rule could be less restrictive than the initially planned regulation, and the fact that the market has had sufficient time to act on it, it's possible that the market has priced it in at this point.
Disclaimer: Copyright ©2009-2020 ZeroHedge.com/ABC Media, LTD; All Rights Reserved. Zero Hedge is intended for Mature Audiences. Familiarize yourself with our legal and use policies every time ...
more