Banker Bonuses Roped In By Regulators Despite Record 2020 For Financial Industry
Paul Sorbera, president of Wall Street executive-search firm Alliance Consulting in New York, told Bloomberg: "Instead of banks compensating their employees well, the banks have sought to pay people just enough so they won't leave. It's particularly been this way since the credit crisis. Covid was a global disaster. I never understood the irrational exuberance about prospective bonuses. It just isn't the way banks operate anymore."
European regulators, in particular, have called on banks to use "extreme moderation" when issuing bonuses for 2020. In fact, the ECB has argued that "banks have only withstood the pandemic so well thus far because of massive support from governments and central banks." This echoes the sentiment in the U.S., where the idea of issuing massive bonuses during the middle of a pandemic offers poor optics.
"The optics aren't good right now for large payouts", Mayra Rodriguez Valladares, a former analyst at the NY Fed who now trains bankers and regulators through her consulting firm, MRV Associates, told Bloomberg back in January. "The more you reward the big lenders, the big traders, they take on more risk," which would attract criticism, she said. Well, yes, but it would also attract bailouts so, in the end, everyone wins. Except for taxpayers of course.
Recall, we reported "internal drama" at Bank of America this month after the bank waived its bonus policy for veteran traders and dealmakers while keeping it in place for others. The bonuses in question are shares that are granted to executives who earn $1 million or more. Instead of shares vesting in equal parts over a timeframe, they now all vest only at the end of four years. The new policy has caused "internal drama", according to Bloomberg.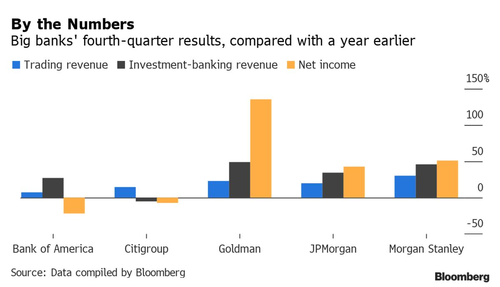 The new rules were supposed to be applied broadly, but it has been revealed that many top investment banking and trading veterans spoke out against having to wait 4 years for their bonuses. As a result, management agreed to exempt them. CEO Brian Moynihan said on January 27 that the new policy "didn't work the way some people wanted it to, so we fixed it."
Disclaimer: Copyright ©2009-2021 ZeroHedge.com/ABC Media, LTD; All Rights Reserved. Zero Hedge is intended for Mature Audiences. Familiarize yourself with our legal and use policies ...
more