3 Reasons To Buy Visa Stock Now
Visa (V) stock has delivered massive gains in the past decade, rising by more than 900% and obliterating the S&P 500 index in the process. However, that does not mean that the best is already in the past. On the contrary, winners tend to keep on winning in the stock market, and Visa is well positioned for market-beating returns going forward.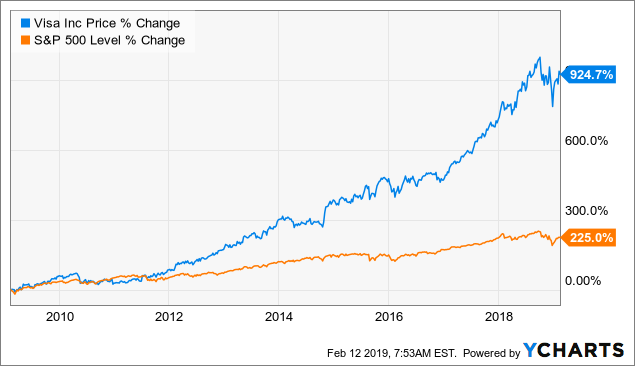 Data by YCharts
1. A High-Quality Business
With a massive network of 16,800 financial institutions, 44 million merchants, and 3.27 billion cards in circulation, Visa is the global leader in electronic payments. Brand recognition and scale are key sources of competitive strength in the industry, especially because customer trust is such a crucial success driver in payments.
In addition to this, the network effect provides a self-sustaining virtuous cycle of growth and increased competitive strength for a dominant player such as Visa. Customers want to have cards that are accepted everywhere, and merchants need to accept the cards that provide access to more potential customers.
This means that customers and merchants attract each other to the leading payments networks, and Visa becomes stronger as it gets bigger over the years.
The business model offers some remarkably attractive characteristics. Most of the company's operating costs are relatively fixed, because a large share of those costs is related to building the technological infrastructure necessary to process payments.
This means that profit margins tend to expand as revenue grows, and Visa generates stratospheric profitability levels. Operating profit margin is around 66% of revenue, with return on equity reaching 32%.
2. Outstanding Financial Performance
The chart below shows how key financial metrics such as revenue, free cash flow, and earnings per share have evolved over time. Visa has clearly created a lot of value for shareholders in the long term.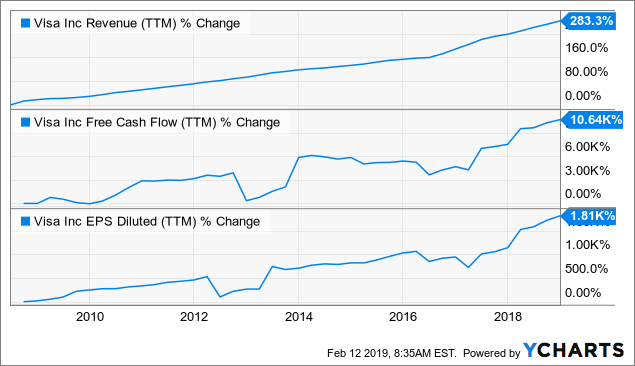 Data by YCharts
The company reported better than expected sales and earnings for the fourth quarter of 2018, which is the first quarter of the fiscal year 2019 for Visa. Net operating revenue amounted to $5.5 billion, growing by 13% year over year. Adjusted earnings per share jumped by an impressive 21% year over year during the quarter.

Disclosure: I am/we are long GOOG, PYPL. I wrote this article myself, and it expresses my own opinions. I am not receiving compensation for it (other than from Seeking Alpha). I have no business ...
more