Extremely High Dislocation In The Labor Market
In this section, we will mention some of the points from the April labor report that we didn't get to in the last article. The length of the workweek rose from 34.9 to 35 hours. That tied the record high using data that goes back to March 2006. Weekly hours worked by private production & non-supervisory workers go back further. It stayed at 34.4 hours which tied the highest reading since April 2000. From the 1960s to the 2010s, there was a multi-decade decline in hours worked per week.
The recent spike is related to the limited workforce supply. Certain industries have job shortages. Furthermore, people are hesitant to re-enter the workforce until the pandemic is fully over. Once this hesitancy goes away (potentially with the end of federal unemployment benefits this September), these shortages will be alleviated. There has been a massive decline in COVID-19 cases in the US in the past 30 days. On April 11th, the 7 day average of new cases was 69,575. As of May 10th, the 7 day average was 39,124. There is no exact threshold we can point to where people will go back to normal. We're definitely closing in on whatever that point is.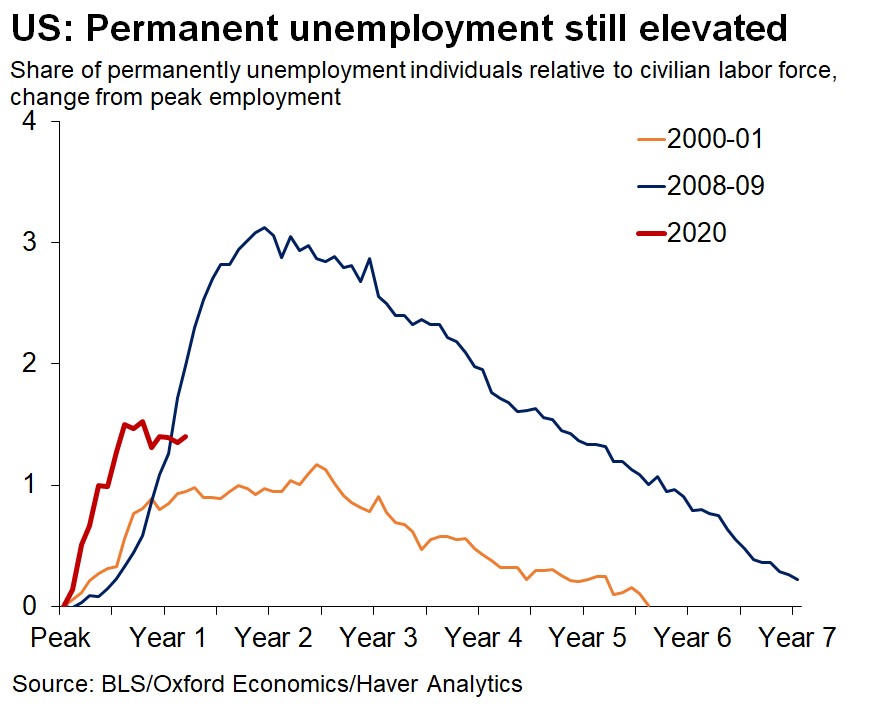 We have been heavily focused on temporary and permanent job losses in this recession/recovery because the pandemic catalyzed a lot of temporary job losses which, in theory, could come back after the environment normalizes. There were over 8 times the number of temporary losers as ever before. Ultimately, the normalization process should take about 16 months. On the one hand, that's a long time to be temporarily estranged from your employer. On the other hand, if you have been estranged for 13 months, what difference will a few more months make?
Specifically, there were 2.114 million people temporarily laid-off in April which was up slightly from March which had 2.026 million. Keep in mind, these are very elevated numbers. The peak following the past recession was 1.894 million in 2009. It will be interesting to see how quickly these temporary layoffs fall this summer. As you can see from the chart above, the number of permanent losers rose from 3.432 million to 3.529 million. Remember, we already predicted that this reading peaked in November 2020. That's looking slightly more precarious, but we think permanent layoffs will fall in the next year as the labor market fully recovers.
Disclaimer: The content in this article is for general informational and entertainment purposes only and should not be construed as financial advice. You agree that any decision you make will be ...
more