Even Higher Growth In 2021?
Some investors are already looking past the coming spike in economic growth. They might be biased towards secular growth stocks with recurring sales or they might want to take profits on their cyclical winners. The trade in cyclical stocks is definitely less crowded than the bubble in cloud and EV stocks was last year. That being said, you shouldn't have expected as much euphoria in a hotel stock as an EV stock. Speculators claim EVs are the future which to them means no price is too high.
Regardless of the sentiment among equity investors, Wall Street estimates for 2021 GDP growth keep increasing and so is the 10 year yield. Goldman projects Q1 GDP growth to be 7.5%; it expects 10.5% growth in Q2. It raised its Q2 estimate by a full 1%. US GDP growth could have the highest impact on global GDP growth since 1999. We are actually partying like it's 1999. The great data is coming very soon. The consensus for job growth in March is 625,000 jobs created. We think that's a little too low.
As you can see from the chart below, the early data shows retail sales growth had been exploding before the stimulus checks went out. We could be looking at an extremely strong retail sales report. It will be interesting to see the results retailers report in Q1 earnings season. They should be fantastic.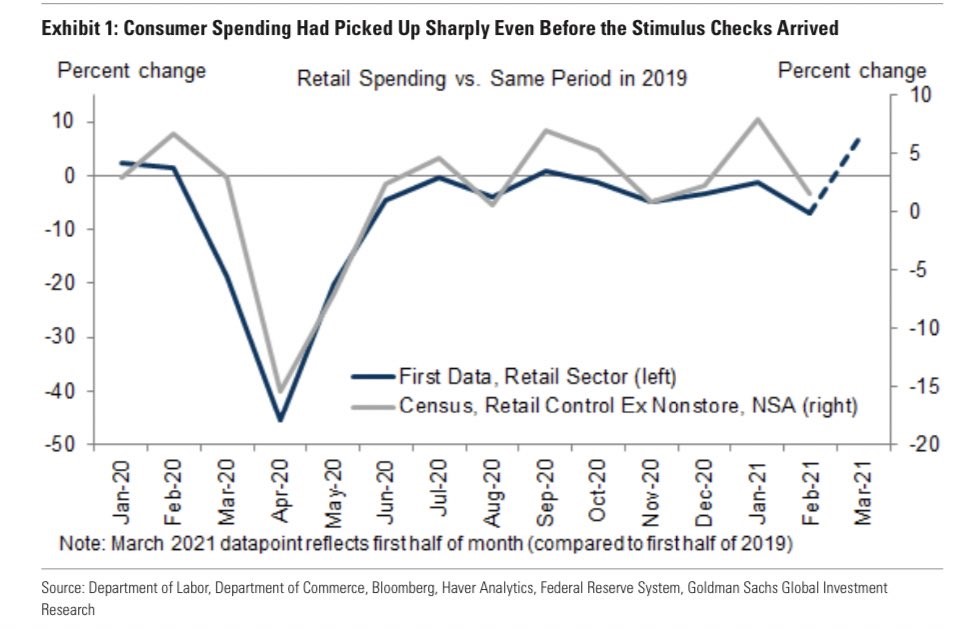 Source: Goldman Sachs
Fed Regional Manufacturing Data Is Amazing
The March regional Fed manufacturing data was basically the best ever when you combine them all. As you can see from the table below, the KC Fed reading was the best since inception and the Philly Fed index was the best since 1973. The worst of the group was the best since December 2020. That's quite good.
March was an exceptionally strong month for regional fed activity reports. pic.twitter.com/GCOjd0LqGS

— Bespoke (@bespokeinvest) March 29, 2021
One company from the Kansas City Fed survey stated, "We are seeing a significant increase in new orders. We are having a hard time ramping up staffing to meet the increase in business we are seeing." Many economists are now claiming that because the economy isn't generating wage inflation, there won't be real inflation pressure this summer. That's an incredibly bad opinion. That's the exact opposite of what's happening as is shown in this Kansas City survey.
Disclaimer: The content in this article is for general informational and entertainment purposes only and should not be construed as financial advice. You agree that any decision you make will be ...
more