Ethereum Soars Above $4000, Nears Market-Cap Of JPMorgan As Bitcoin Dominance Fades
At 13.5%, the projected difficulty increase is the largest since June last year.
If the old adage "price follows hash rate" proves itself to be as true today as previously, Bitcoin hodlers could feel the knock-on price benefits in the coming weeks.
Escaping the short-term narrative just for a moment, meanwhile, produces a familiar sensation that all is well in Bitcoin.
While altcoins boom on a trading frenzy, a slow but steady transfer of Bitcoin wealth from weak hands to strong ones is continuing, says popular statistician Willy Woo.
Analyzing data late last week, Woo stressed that this year's bull run is different to the rest — because speculative hands are not lasting long and seasoned hodlers are buying up the slack at higher prices than ever.
"This cycle is different; the movement of coins to strong holders is unprecedented," he summarized alongside the data from on-chain monitoring resource Glassnode.
This cycle is different; the movement of coins to strong holders is unprecedented.

Chart: purple line tracks coins moving between weak and strong hands (running total over 128 days)

Raw data: @glassnode pic.twitter.com/xbqSMljCdC

— Willy Woo (@woonomic) May 9, 2021
As Cointelegraph reported, the trend has characterized various phases of 2021 when it comes to BTC price.
And while Ether is quickly catching up to JPMorgan's market cap...
(Click on image to enlarge)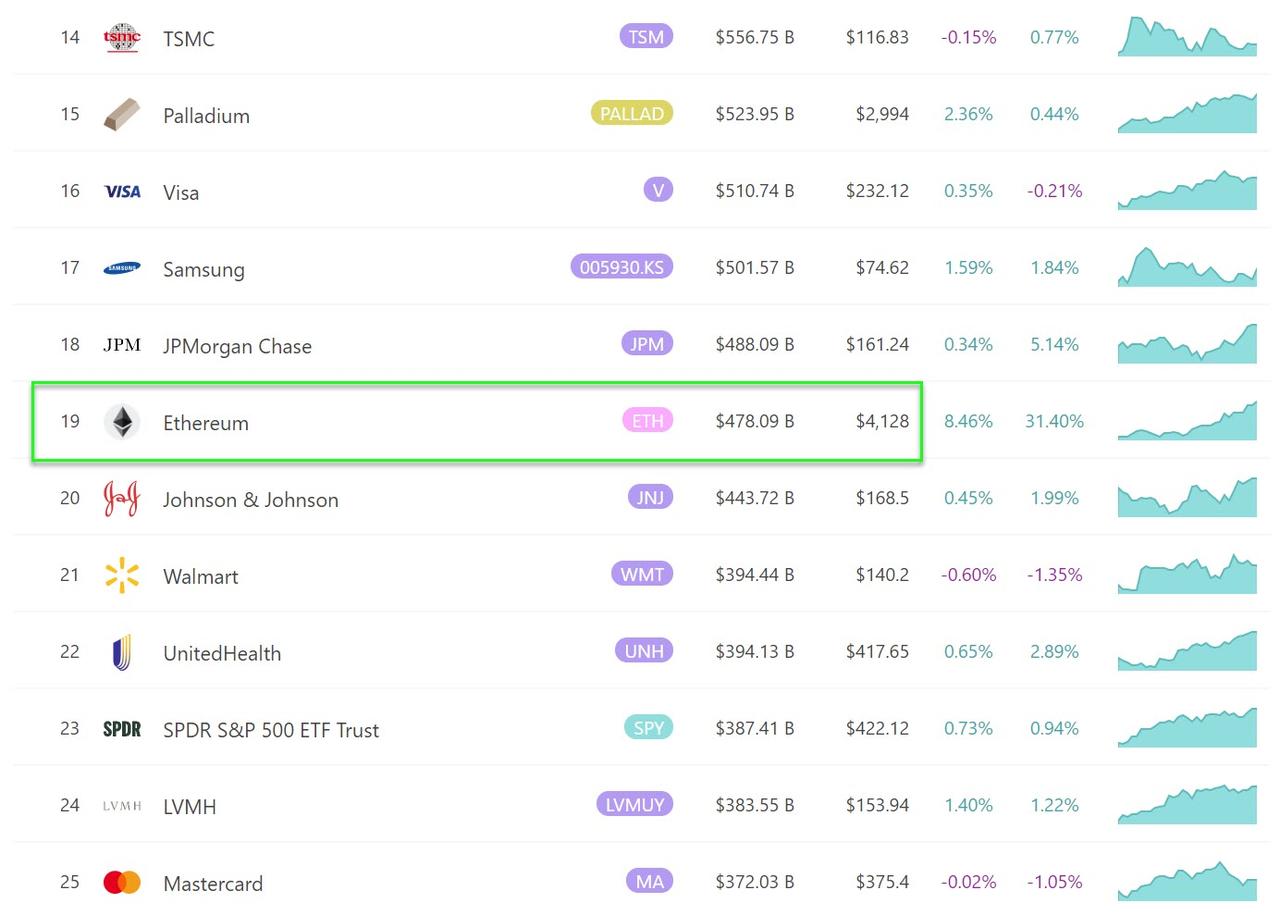 We note that the adoption by major banks - who were, and still are, largely skeptical naysayers of the DeFi space and its challenge to their centralized controls, is increasing as UBS Group is joining the likes of Goldman Sachs, Morgan Stanley, and BNY Mellon, in deepening their involvement in the digital assets sphere this year, exploring various ways to offer its wealthy clients the possibility of investing in digital assets.
"(Crypto has) got a lot more institutional involvement than people who haven't followed the market believe," said Chris Weston, head of research at brokerage Pepperstone. "And everyone's been in ethereum. It's not a meme joke coin, it actually has some application use," he added, referring to its role in DeFi.
Disclosure: Copyright ©2009-2021 ZeroHedge.com/ABC Media, LTD; All Rights Reserved. Zero Hedge is intended for Mature Audiences. Familiarize yourself with our legal and use policies ...
more