Ethereum Erupts Higher, Bitcoin Nears $35k; What's Next?
While Bitcoin has been stealing the headlines, it was Ethereum's turn overnight as the number two crypto spiked back above $900 for the first time since February 2018.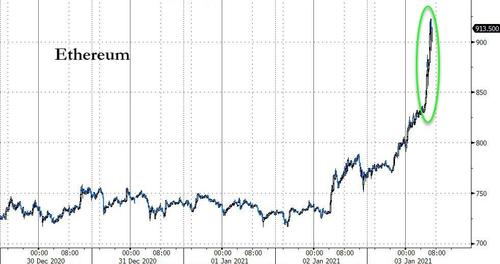 Source: Bloomberg
Ethereum still has over $400 to go to reach its record highs.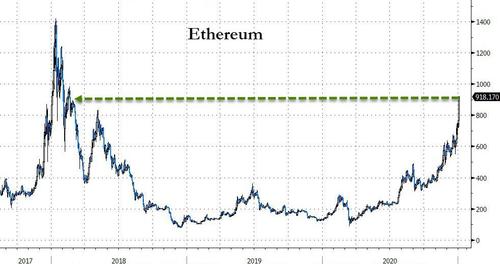 Source: Bloomberg
Bitcoin also pushed higher overnight, nearing $35,000, after correcting sharply to around $30,300 yesterday. But, within 24 hours, BTC has bounced back from $30,300 to as high as $34,778, a 14% rebound.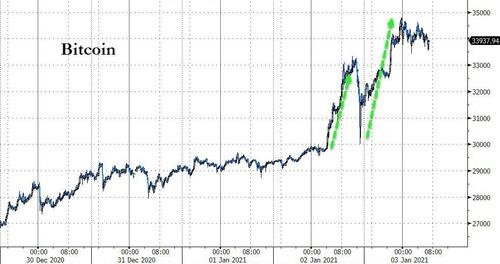 Source: Bloomberg
Ethereum's surge began as the BTC/ETH ratio topped 43x once again, and erased all the recent outperformance, back to 37x.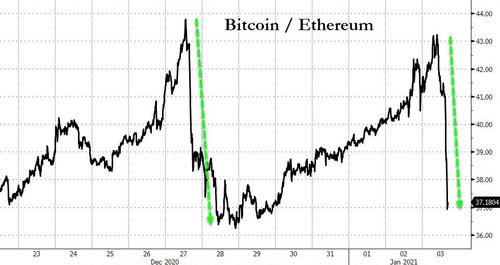 Source: Bloomberg
CoinTelegraph's Joseph Young asks, What triggered the Bitcoin and Ethereum rally?
When the price of Bitcoin surpassed $33,000 on Jan. 2, some whales and high-net-worth investors warned that a 150 BTC sell order could retrace the market.
A pseudonymous Bitcoin trader known as "i.am.nomad" wrote:
"A 150 btc market sell would retrace this whole thing. lmao the higher price goes, the more retail gets prices out, the lower bid support will be."
Within hours he pinpointed the risk of a Bitcoin correction due to thin order books, BTC sharply pulled back. However, Bitcoin recovered quickly after the initial drop, rallying to a new record-high within 24 hours. The main catalysts behind Bitcoin's rally have been the institutional accumulation of BTC on Coinbase and the short squeeze on Binance Futures.
Throughout the past three days, Bitcoin has been trading much higher on Coinbase than on other major exchanges, as Cointelegraph reported.
This means that aggressive buyers on Coinbase were continuously accumulating BTC despite the premium.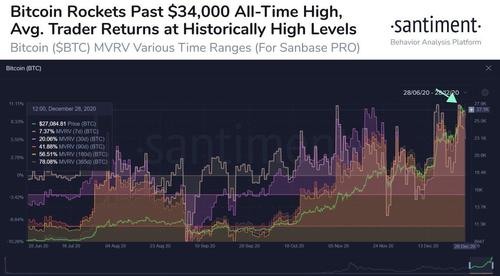 Bitcoin surpasses past $34K with average trader returns at highs. Source: Santiment
In the meantime, many traders on Binance Futures were shorting BTC, possibly expecting Bitcoin to top out at around $30,000. When Coinbase buyers continued to push BTC upwards, a short squeeze occurred. Analysts at Santiment explained:
Disclaimer: Copyright ©2009-2021 ZeroHedge.com/ABC Media, LTD; All Rights Reserved. Zero Hedge is intended for Mature Audiences. Familiarize yourself with our legal and use policies every time ...
more