When Should I Get Back In?
I will buy back into the the market when this page shows that 50% of the stocks are trading above their 20 day moving average in a 25% increment. I will buy another 25% increment when 50% of the stocks are selling above their 50 day moving average and then again when the same is true for 50% of the stocks trading above their 100 and 150 day moving averages. I will be setting my stop losses at the 200 day moving average and wait for the time that I can begin again to believe that the data has some reliable predictability for individual stocks
Here is a chart of the S&P 500 Large Cap ETF (IVV) and I will use it and the table above to be my rational guide to getting back in:
(Click on image to enlarge)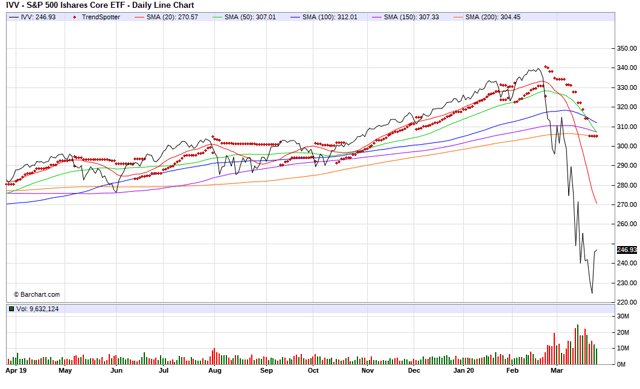 This may not work for all of you, but I thought I would share the method that I'm comfortable with.
Be careful. Be rational.