What To Consider In Buying A Tech ETF
For example, let's compare two large "general" technology ETFs - State Street's The Technology Select Sector SPDR Fund (XLK) and BlackRock's iShares U.S. Technology ETF (IYW). Both describe themselves as broad-based technology ETFs and yet their performance has differed by an absolute almost 1.3% this past year alone.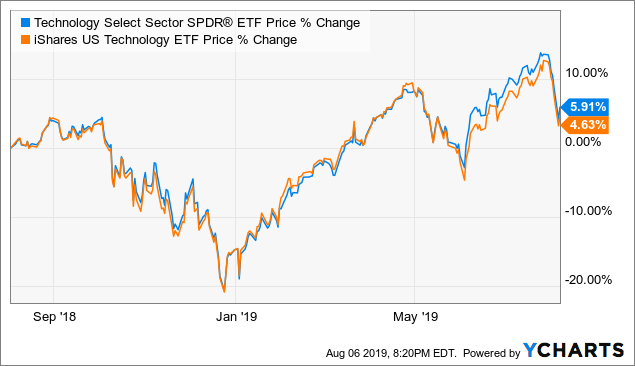 Data by YCharts
Upon closer examination, we see that while they hold many of the same stocks in similar proportions, there are essential differences. For example, XLK has a slightly greater, but significant, weighting to its top two holdings - Microsoft (MSFT) and Apple (AAPL) - than IYW does. IYW also has as its third largest holding, Google (GOOGL) (GOOG), consisting of about 12% of its portfolio, while XLK doesn't appear to own any Google stock.
Furthermore, XLK has only about 71 holdings in comparison to IYW's 149 holdings. However, as a similarity, IYW's top 10 holdings account for 64.06% of the portfolio while XLK's top 10 account for 64.95%.
These are only some of their many differences which result in sometimes significant divergences in performance for similar-sounding ETFs.
An ETF that states to be representative of a sector may be comfortably weighted to just a few large companies in that sector or even to particular companies for no justifiable reason. It is important to look at the ETF's publicly listed holdings and prospectus to examine exactly what is in it and how it functions.

Conclusion
As described above, tech ETFs are generally extremely worthwhile either to gain the general benefits of ETFs in stabilizing your portfolio or to focus on particular sub-sectors in which you can ride tailwinds in those specific industries.
Nonetheless, there also are significant risks involved with tech ETFs, namely that many attractive ETFs in terms of categories faced potential critical mass risk and the enormous variance in precisely what can go into a "tech" ETF as well as the same for sub-sector ones.
Disclaimer: These are only my opinions and do not constitute investment advice.