Value Opportunities In International Markets
The CAPE ratio for US stocks currently stands at 26.8, while Developed Europe trades at a CAPE ratio of 16.5 and Emerging Markets carry a CAPE ratio of 14.5 according to data from StarCapital.
The table below compares valuation indicators for SPDR S&P 500, iShares MSCI EAFE, and Vanguard FTSE Emerging Markets. To provide more context about the attractiveness of valuations in international markets, we can also include Cambria Global Value (GVAL), which is an ETF focused on undervalued stocks on a global scale.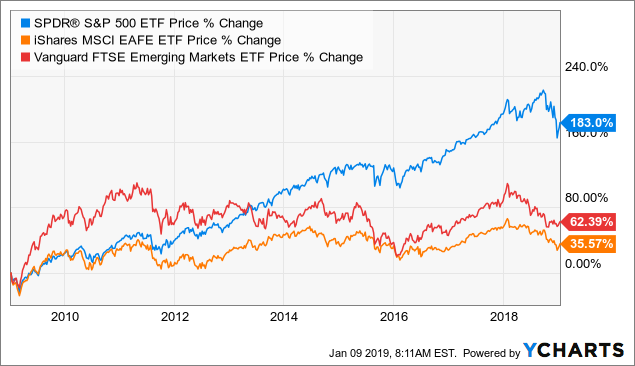 Data source: Morningstar
The difference is quite staggering. The average valuation level for stocks in Cambria Global Value is nearly half the valuations available for companies in the US in terms of price to earnings, price to book, price to sales, and price to cash flow. The dividend yield rises from 2.2% in the case of SPDR S&P 500 to 6.3% in Cambria Global Value.
There are many reasons why we can justify a higher valuation for SPDR S&P 500. This is not only related to macroeconomic factors but also sector exposure. The technology sector represents 22% of the portfolio in SPDR S&P 500, while Cambria Global Value has 29% of assets in financial services. Since tech stocks obviously trade at higher multiples than financials, the comparisons are not completely straightforward.
But that is beyond the point. The statistical evidence shows that value has a consistently positive impact on returns over the long term. This is in spite of the well-known valuation differences at the sector level.
We can also say that international markets are riskier than the US on a standalone basis, since economic prospects and the institutional landscape are more uncertain. Even assuming that this is completely true, risk needs to be managed at the portfolio level, not at the individual position level. Adding an ETF such as Cambria Global Value to a portfolio of US stocks can do wonders in terms of diversification.
Besides, even if the fundamentals are more uncertain in international markets, valuations are also much cheaper, and the data shows that investing in cheap markets reduces downside risk by providing a margin of safety.
Disclosure: I am long GVAL.
Disclaimer: I wrote this article myself, and it expresses my own opinions. I am not receiving compensation for it. I have no business relationship with any company ...
more