Value Opportunities In International Markets
The strategy also generated those superior returns with smaller downside risk. The maximum drawdown was 39.62% for the Global Value strategy versus a maximum drawdown of 50.95% for the S&P 500 in the same period.
The table below is from a research paper by StarCapital entitled Predicting Stock Market Returns Using the Shiller CAPE. It shows what kinds of returns different stock markets have produced over long periods of time in comparison to the starting CAPE ratio. The data is quite clear, and it shows that valuation is a major determinant for long term returns.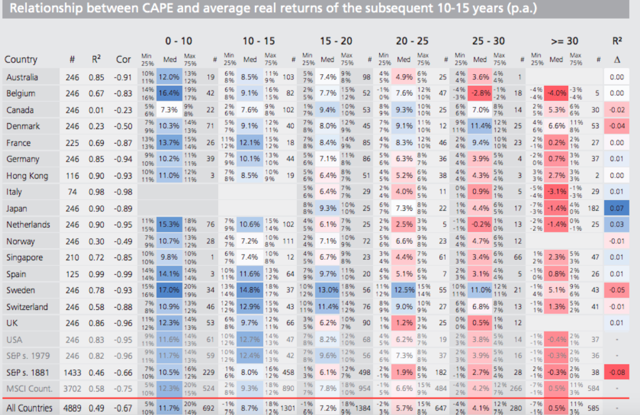 Source: StarCapital
The chart, also from StarCapital, shows the average and maximum drawdown for different markets according to their valuation levels. The key takeaway is that valuation provides a margin of safety, the lower the price you pay, the lower your downside risk too.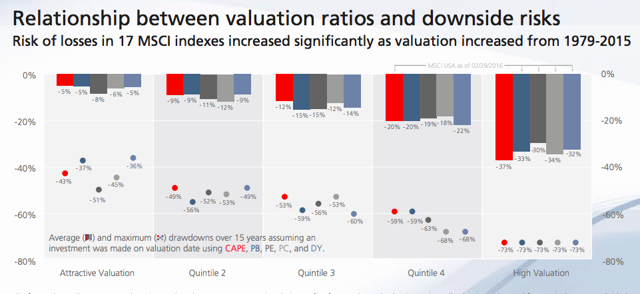 Source: StarCapital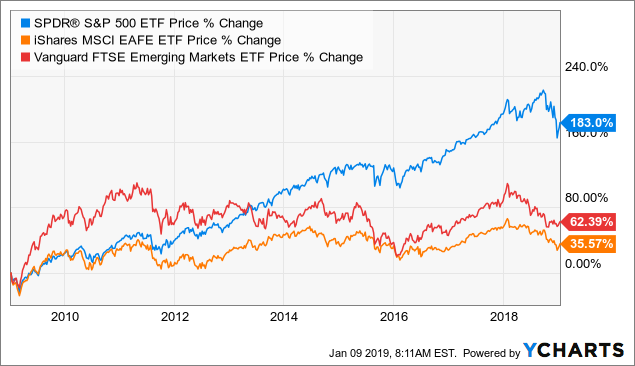 SPY data by Ycharts
Even if the CAPE ratio is not your favorite valuation indicator, it is important to note that most valuation ratios such as CAPE, price to cash flow, and dividend yield generally move in the same direction over time. It is not about CAPE in particular but valuation in general, and the data shows that valuation has a massive impact on both returns and risk over the long term.
Hunting For Value In Global Markets
US stocks have materially outperformed international stocks over the past decade. The chart below shows the evolution of SPDR S&P 500 (SPY), iShares MSCI EAFE (EFA), and Vanguard FTSE Emerging Markets (VWO). Investing in the United States has produced tremendous outperformance in comparison to global markets.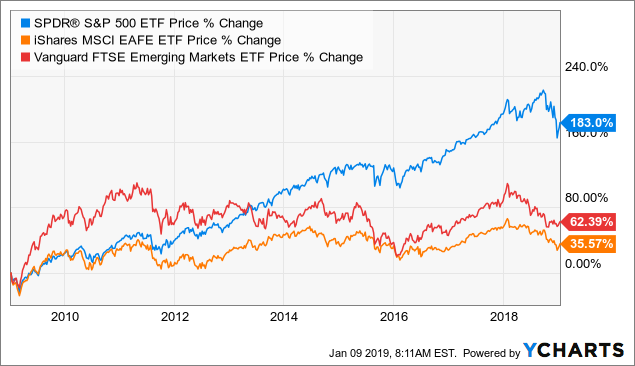 It is easy to make the case that the US economy has also generated more stable economic growth, and many of the most successful corporations on a global scale are traded in the United States markets, so this explains the outperformance of US stocks in the past decade.
However, investment decisions need to be based on forward-looking considerations as opposed to past performance. Even assuming that the US economy will continue to do better than the rest of the world, the valuation gap is now quite substantial, and this is a crucial consideration to keep in mind.
Disclosure: I am long GVAL.
Disclaimer: I wrote this article myself, and it expresses my own opinions. I am not receiving compensation for it. I have no business relationship with any company ...
more