Thematic Funds For The Tactical Sleeve
Figure 2:

Figure 3: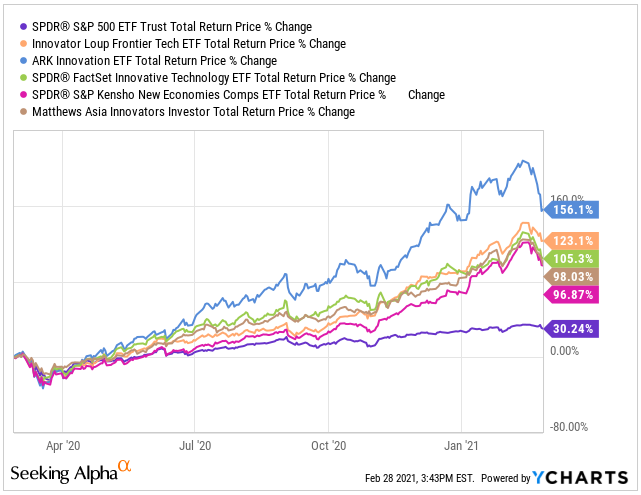 Figure 4: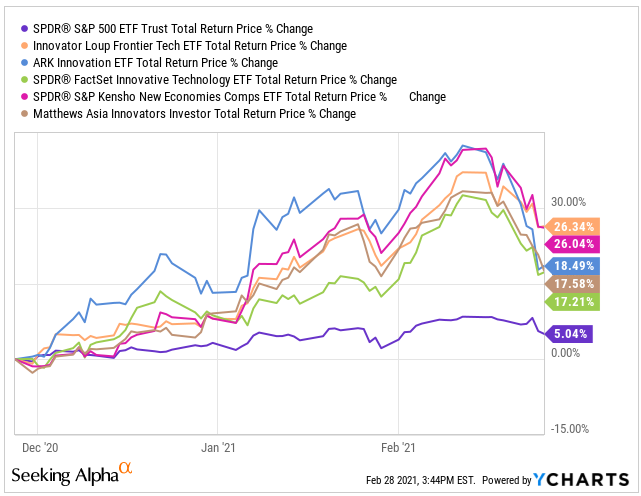 Figure 5: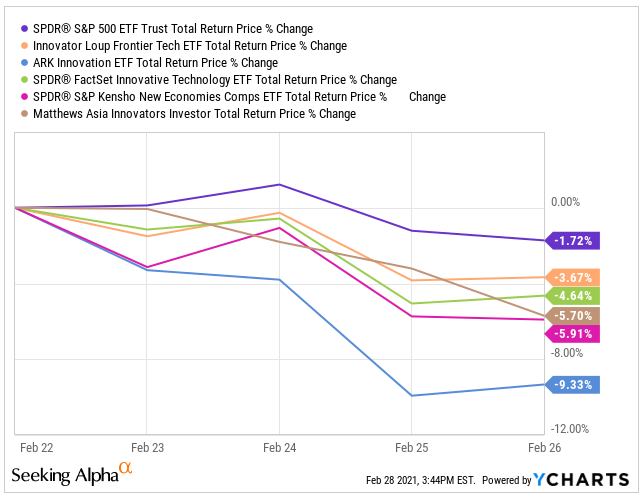 Figure 6:
Profiles of the Active Managers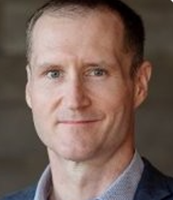 Gene Munster, Loup Ventures, Managing Partner (January 2017-present)
He was formerly Managing Director and Senior Research Analyst at Piper Jaffray July 1995 – December 2016. He specialized in US and China internet and Digital Media, including digital advertising, mobile social, social gaming, virtual reality and mixed reality. During his 21 years at Piper Jaffray, he received many acknowledgements including: Top Stock Picker from Forbes, Best on the Street from The Wall Street Journal.
He received a bachelor's degree in financial management and new venture strategies from University of St. Thomas (Minnesota)
Munster believes that 70% of jobs will become automated and that as a result, these categories will be the biggest areas of growth. He believes that in 10 years we'll look back and we could not imagine what life was like without robots.
Link to introductory comments about LOUP ETF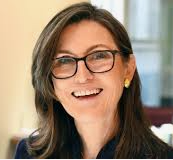 Catherine Wood | CEO and Chief Investment Officer ARK Invest
Prior to ARK, Cathie spent twelve years at AllianceBernstein as Chief Investment Officer of Global Thematic Strategies where she managed $5 billion. Cathie joined Alliance Capital from Tupelo Capital Management, a hedge fund she co-founded which, in 2000, managed $800 million in global thematic strategies. Prior to her tenure at Tupelo Capital, she worked for 18 years with Jennison Associates as Chief Economist, Equity Research Analyst, Portfolio Manager and Director. She started her career in Los Angeles, California at The Capital Group as an Assistant Economist. Cathie received her Bachelor of Science, summa cum laude, in Finance and Economics from the University of Southern California in 1981.
She emphasizes focus on the future, doubling down on innovation and disruption, and making sure you are on the right side of change.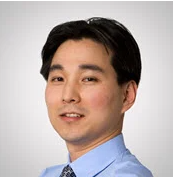 Michael J, Oh, Lead Manager, Matthews Asia Innovators Fund
Disclosure: I am/we are long LOUP, XITK, KOMP, MITEX.
Disclaimer: "QVM Invest", "QVM Research" are service marks of QVM Group LLC. QVM Group LLC is a registered ...
more