The Week In Cannabis: Big Earnings Reports, Biden's Change Of Heart, New Report On Dispensaries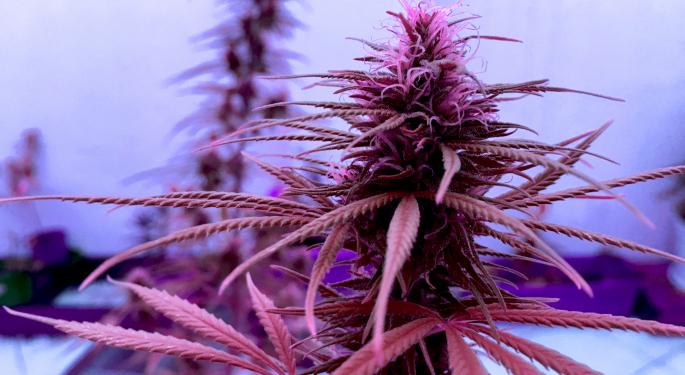 As the presidential race continues to heat up, Democratic contender and former Vice President Joe Biden has come out in support of decriminalizing cannabis — but not of full legalization. "Nobody should be in jail for smoking marijuana," he said.
While it was a big step for someone who had been opposed to cannabis for three decades, it still remains a half-step.
In the words of the cannabis writer Bruce Barcott: "By embracing decriminalization, Biden takes what many in the drug reform community consider the coward's way out … these half-steps leave law enforcement free to continue the racially biased policing tactics, using marijuana as a pretext to stop people of color as they go about their business."
Become a cannabis insider with data delivered to your inbox daily from New Frontier Data
A myriad of cannabis-related bills were submitted in the House of Representatives, most of them aimed at protecting certain groups using medical marijuana, from military veterans to students.
Leafly released a report looking into the impact of dispensary openings on crime rates and property values. Benzinga broke this story with a write-up by Leafly's California bureau chief David Downs.
"The vast majority of current research suggests that allowing regulated cannabis stores actually improves community safety, health and property values," he said.
On the markets front, we saw some of the biggest cannabis companies in the world report their quarterly results.
CannTrust Holdings Inc CTST posted quarterly revenue of CA$16.9 million ($18.9 million), up 115 percent from the first quarter of 2018. Sixty-seven percent of the growth came from the medical channel, while 33 percent came from its recreational arm.
Tilray Inc TLRY 3.89% posted an adjusted loss of 27 cents per share, in line with consensus estimates, on sales of $23.04 million. Revenue surged by 195 percent on the year and was considerably above analyst estimates of $20.16 million. CEO Brendan Kennedy told CNBC: "You are going to see some daily volatility, but our objective is to invest for the long-term."
Aurora Cannabis Inc ACB reported deep losses on a year-over-year basis and net sales of CA$65.145 million ($48.4 million) versus $16.1 million in sales in the third quarter of 2018.
Aurora said it lost CA$158.35 million in the first quarter, down from the second-quarter loss of CA$237.75 million but up 724 percent from its CA$19.2-million loss one year ago. Executive Chairman Michael Singer said getting to positive EBITDA would be a "game-changer." Options traders made some big moves following the earnings report. The largest trades suggest the Aurora rally could soon run out of steam.
"I believe cannabis investors are starting to expect execution from the industry. Companies have been on an acquisition and going public binge, which has proven to be expensive," Green Market Report CEO Debra Borchardt told Benzinga.
"Now shareholders want to see revenues rising and losses declining. Patience will begin to wear thin as we move through the quarters this year."
Finally, we learned that Jakob Ripshtein, President of Aphria Inc APHA, will resign from the company June 7 amid a wide management reshuffle.
Marijuana Stocks & ETFs
Over the last five trading days:
• The Horizons Marijuana Life Sciences Index ETF HMLSF (TSE:HMMJ) lost almost 1 percent.
• The ETFMG Alternative Harvest ETF MJ tumbled 1.8 percent.
• The AdvisorShares Pure Cannabis ETF YOLO gained 0.1 percent.
• The SPDR S&P 500 ETF Trust SPY closed the period down 0.8 percent.
Top marijuana stocks with market caps above $500 million trading on U.S. exchanges performed as follows over the last five trading days:
• Acreage Holdings ACRZF: down 8.2 percent.
• Aphria Inc APHA : down 5.4 percent.
• Aurora Cannabis Inc ACB: up 3.95 percent.
• CannTrust Holdings Inc CTST: down 0.3 percent.
• Canopy Growth Corp CGC: down 6 percent.
• Cronos Group Inc. CRON: down 3.05 percent.
• Curaleaf Holdings Inc CURLF: down 13.6 percent.
• Green Growth Brands Inc GGBXF: down 9.9 percent.
• Green Organic Dutchman Holdings Ltd TGODF: down 4.3 percent.
• Green Thumb Industries Inc GGBXF: down 9.9 percent.
• GW Pharmaceuticals PLC- ADR GWPH: down 1.8 percent.
• Hexo Corp HEXO: down 3.1 percent.
• Harvest Health & Recreation Inc HRVSF: down 5.2 percent.
• iAnthus Capital Holdings Inc ITHUF: down 6.5 percent.
• Marimed Inc MRMD: up 0.8 percent.
• MedMen Enterprises Inc. MMNFF: down 4.6 percent.
• OrganiGram Holdings Inc OGRMF: up 12.7 percent.
• Scotts Miracle-Gro Co SMG: down 2.1 percent.
• Tilray Inc TLRY: down 8.4 percent.
In Other News
Cannabis industry infrastructure services provider Helix TCS Inc. HLIX announced the receipt of its application to list on the Canadian Stock Exchange, in addition to the company's active OTCQB listing.
"As we set the stage for a global cannabis marketplace and the industry begins to attract broader financial and investor interest, we are excited about the prospect of listing on the CSE as it will bring our current and future investors increased liquidity, regardless of where they are located," Zachary Venegas, executive chairman and CEO of Helix TCS, told Benzinga.
Arizona-based Harvest Health & Recreation announced it closed the first tranche of its brokered private placement for gross proceeds of $100 million. Full story here.
Wholesale marketplace LeafLink began offering Metrc integration, allowing its clients to consolidate their Metrc and LeafLink workflows. The integration syncs with Metrc accounts, allowing users to view and manage Metrc data throughout the LeafLink experience.
Media veteran Felicia Palmer, founder of SOHH.com, the longest-running hip-hop website in the world, and her new company, Cannaramic, are suing Facebook Inc FB after the social media behemoth rejected some ads around their upcoming Cannaramic Online Summit and temporarily suspended the event's page.
The plaintiffs are being represented pro bono by attorney David Holland, the executive director for the New York chapter of marijuana advocacy organization NORML; they are seeking a jury trial to challenge Facebook's stance on legal cannabis.