The No. 1 Sector To Buy Into Right Now
Bank stocks had a great run higher, but they started to sell off last week and into this week. Investors are practically fleeing America's biggest, most profitable bank shares.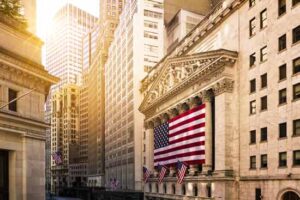 I'll come right out and say it: Those investors are making a huge, expensive mistake, and I hope you're not one of them.
Because the real story is, right now is the best time to buy banks. Investors are leaving billions on the table if you can believe it (and you should). They're running scared from some of the year's biggest upside.
The profits are right there for the taking, so let's go…
Why Investors Are Running Right Now
Bank shareholders are bailing out because they're scared. They're terrified because they think they're facing the expiration of an exemption the Federal Reserve worked out for big banks last year.
That one-year exemption basically gave banks a pass on having to count U.S. Treasuries in the calculation of banks' supplementary leverage ratio (SLR). This exemption is currently set to expire next week, on March 31, 2021.
Banks, unsurprisingly, have stringent reserve requirements that got a lot more stringent after the disastrous financial crisis of 2008. One additional calculation forced on them is the SLR, which requires banks to count all their "assets" when calculating how leveraged their capital is against those holdings.
As far as assets go, U.S. Treasuries and junk bonds have the same "weight" in SLR calculations.
When the pandemic started to hammer the markets and the economy last March, the Fed decided to exempt Treasury holdings at big banks from being incorporated in their SLR calculations. That way, banks would be less constrained in their reserve requirements and could lend more money out into the economy where money was needed.
Not having to add government bills, notes, and bonds in their SLR calculations allowed banks to add huge amounts of those assets at precisely the same time they knew the Fed was going to do everything in its power to lower rates.
Disclaimer: Any performance results described herein are not based on actual trading of securities but are instead based on a hypothetical trading account which entered and exited the suggested ...
more