The Incredibly Easy Way To Boost Your Gains By 1,900%
About a month ago I spotted a little-known opportunity for profit. The play involved an outfit that had been mismanaged for years, but still had a lot of underlying value. They were due to choose new leadership in mid-December. The outgoing board had their slate; the reformers had theirs. I gambled that shareholders would go with the reformers, and markets would reward the outfit's price accordingly.
I chose correctly, and I've gained almost 13% in just three weeks. By contrast, the S&P 500 is only up a little over 2.5% in the same period. That prompted me to go back and look for similar plays over the last year. There were plenty of them. But very few people benefited from them.
On average, over the last 12 months, making these sorts of investments would have earned you a whopping 70% more than the S&P 500 … and I'm convinced they're going to repeat that performance in 2018.
Hidden Profits in Emerging Markets
The "stock" I bought in mid-December was the iShares MSCI South Africa ETF (NYSE: EZA).
My other home country has been badly misruled for a decade, but as I expected, the ruling party chose a solid reformer as the next president. Markets reacted accordingly, and I scored … but only because I pay attention to this particular emerging market and got in early.
You should be doing the same in 2018. I predict that emerging markets (EMs) are going to be one of the big winners of the year.
In 2017, EMs were a bit of a sleeper hit. The S&P 500 was up just over 20% last year. Everybody was chasing U.S. equity gains. But EMs soared over 37% in 2017.
The chart below compares two common EM exchange-traded funds (ETFs), the iShares Core MSCI Emerging Markets ETF (NYSE: IEMG) and the Vanguard FTSE Emerging Markets ETF (NYSE: VWO), to the SPDR S&P 500 ETF (NYSE: SPY).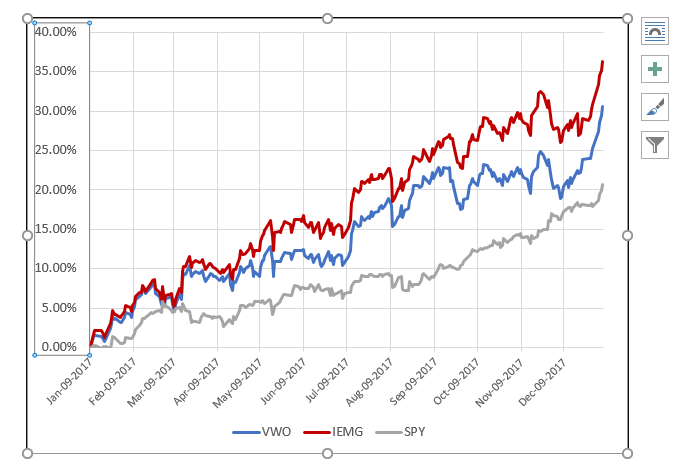 EMs are poised to do the same … or better … in 2018. Why?