The Disappearing MLP Buyer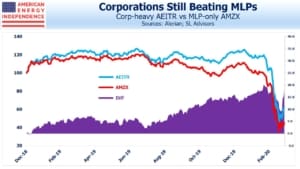 Open-ended MLP-dedicated mutual funds such as those run by Steelpath (now owned by Invesco), Center Coast Brookfield and Mainstay Cushing face a choice. The extreme volatility and diminished pool of names make it unlikely they'll attract many new clients. Like AMLP, their complex, tax-inefficient structure has always been a burden, because they pay corporate taxes on profits (see MLP Funds Made for Uncle Sam). Invesco recently had to spend $400 million correcting mis-stated NAVs dating back to 2015 – evidently the tax treatment even confused the fund's accountants. Today, all these funds are a long way from having to pay corporate taxes.
It must make sense for them to broaden their mandate to include pipeline corporations, whose market cap is roughly twice as big as MLPs. Doing so will place further downward pressure on MLPs as these funds diversify their holdings.
Tax-exempt U.S. institutions and non-U.S. investors rarely invest in MLPs, because they face onerous tax liabilities if they do. Valuations are so depressed that some may decide it's worth the trouble. But they're likely to stick to the big three of Enterprise Products (EPD), Energy Transfer (ET) and Magellan Midstream (MMP).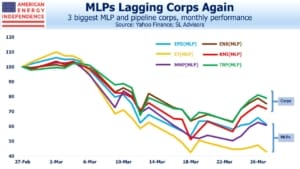 The result is that it's hard to identify much natural demand for MLPs. By contrast, pipeline corporations can be bought by anyone. This absence of investors has led to even the three biggest MLPs performing worse than the three biggest pipeline corporations in the last month. The broader trend for pipeline corporations to outperform MLPs began early last year. The American Energy Independence Index is 80% corporations, and has beaten the Alerian MLP Index by 14% since then.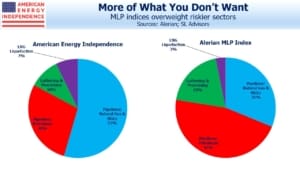 Moreover, compared with pipeline corporations, MLPs are (1) more exposed to crude oil with less natural gas, where demand is more stable, (2) more exposed to gathering and processing, which depends heavily on production from the specific areas served, (3) riskier credits, with more BBB- (one notch above junk) and below than corporations, and 4) less protective of investor rights, with poorer corporate governance and in some cases blatant conflicts of interest. In other words, the MLP-dedicated portfolio has more of what's most vulnerable (see Today's Pipelines Leave MLPs Behind).
Disclosure:
SL Advisors manages investment products designed to incorporate the advantages described above.
The information provided is for informational purposes only and investors ...
more