The Credit Market Is Sending A Bullish Signal For SPY
The widely followed SPDR S&P 500 (NYSEARCA: SPY) is at a critical juncture. After a sharp crash in February-March and an impressive recovery since April, the ETF that replicates the S&P 500 index has been pulling back from its highs and breaking below some critical support levels in the short term.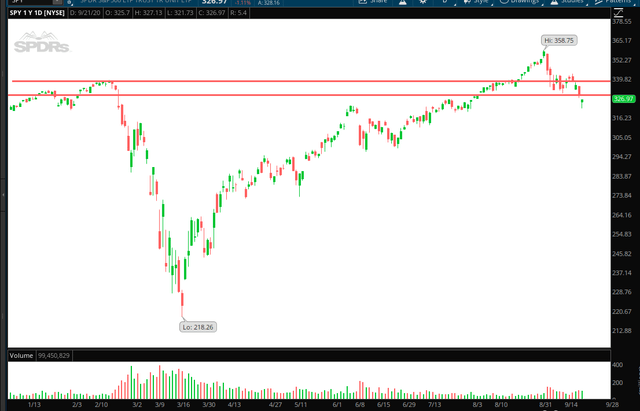 Source: TOS
The big question in everyone's minds is whether this is just a garden variety correction in the context of a long-term uptrend or the beginning of a deeper move down for SPY.
The future can never be known with precision, but we can get some clues from market indicators in order to assess risk appetite across different asset classes. Demand for risk in the debt market can be a major driver for SPY, and the debt market is currently sending a bullish signal.
The Smart Money
It is usually said that the bond market is smarter than the equity market. This could be an oversimplification, but it is true that the debt market moves enormous amounts of institutional money, and bond investors are generally more risk-conscious and focused on risk management than equity investors.
As a reference, we can see how the coronavirus-induced crash in SPY was signaled in advance by a sharp increase in credit spreads, as investors in the bond markets were rapidly looking for safety before things got really nasty for SPY.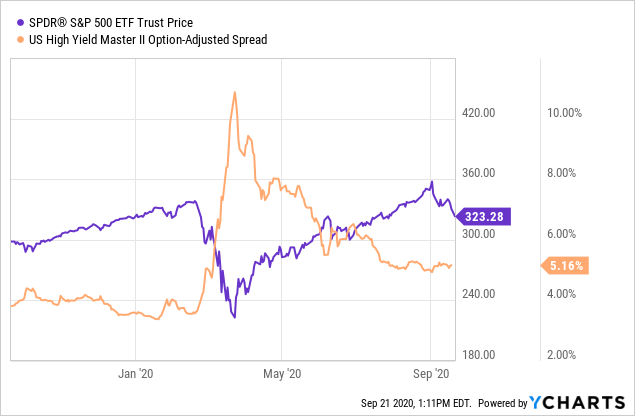 Data by YCharts
There are no magic rules or infallible signals in the market. However, when assessing the risk and reward potential in SPY going forward, it makes sense to also incorporate some signals from the credit markets in order to look at the whole picture with a bigger perspective.
Measuring The Trends
The Credit Market Model is a quantitative strategy that reads the signals from the credit market in order to enter and exit positions in SPY based on these signals. The main idea is assuming exposure to SPY when the debt market is showing a strong appetite for risk and protecting the portfolio when risk appetite is declining in the bond markets.
Disclosure: I/we have no positions in any stocks mentioned, and no plans to initiate any positions within the next 72 hours.
Disclaimer: I wrote this article myself, and it expresses my own ...
more