The Alerian Problem
As a result, MLPs are less than half of the midstream energy infrastructure sector, and each MLP simplification further reduces their number. This need not matter much for a holder of individual MLPs. As your MLPs convert to corporations, your portfolio's composition shifts as well. TEP investors will still own the same assets via Tallgrass Energy, LP (TGE), a corporation for tax purposes.
But if you're invested in an MLP-dedicated fund, you and your fund manager face a problem. A shrinking Alerian MLP Index (AMZ) creates a dilemma for funds that are benchmarked to it. If they do nothing, the index (and therefore, the fund) will become steadily less representative of the sector, with fewer names and a smaller median market cap. Today, the median market cap of AMZ's constituents is only $1.8BN, compared with $15BN for the broader American Energy Independence Index (AEITR). Not coincidentally, since the FERC announcement broader, corporate exposure to infrastructure has outperformed the MLP-dedicated Alerian index.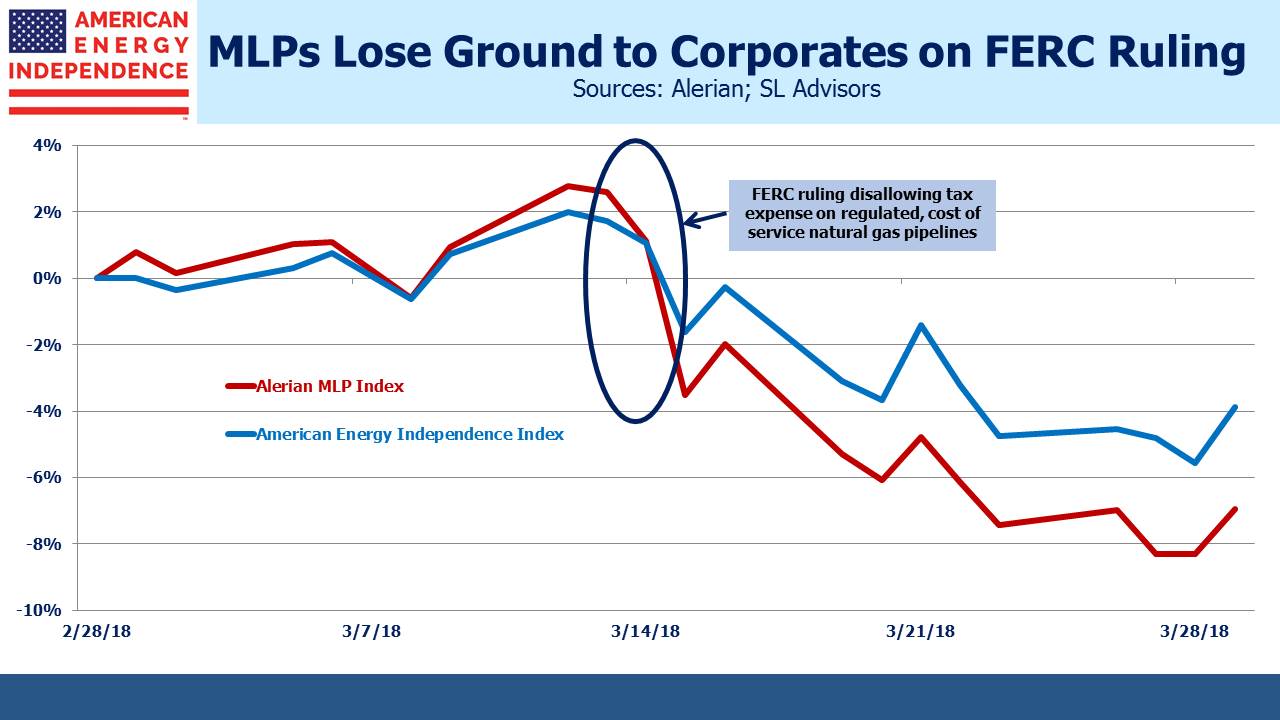 To put this in perspective, the Alerian MLP ETF (AMLP), various tax-impaired mutual funds offered by Oppenheimer Steelpath, Goldman Sachs, Center Coast and Cushing, along with the JPMorgan Alerian MLP Index ETN hold a combined $24BN in MLPs linked to AMZ. This is 14% of AMZ's float-adjusted market cap. If these funds do nothing, tracking their index will shift them into more concentrated portfolios, or smaller names, or both.
Rather than fight against this tide, it might make sense for them to consider switching to a more representative index that better reflects energy infrastructure. However, like watching elephants dance, it's unlikely to be elegant. If AMLP announced that it was substituting a different, broader index, that would immediately depress the prices of those MLPs that it would need to sell, hurting performance immediately. Actively managed mutual funds could implement portfolio shifts to a broader index over weeks or months, and although this might lessen the immediate market impact, it would introduce tracking error against both old and new benchmarks. It would likely be disruptive to their performance.
Disclosure: We are short AMLP
Disclaimer: For more detailed information please click here.