The 50 Cent "In Da Club" Stock Market (And Sentiment Results)
So as more calls are bought by retail traders, more stock is bought as a hedge by dealers (which pushes the stock up) and then creates demand from short sellers (who are collectively short 140% of the float) to buy the same stock all at once (in order to cover their shorts as they get margin calls).
So those retail traders "In Da Club" (r/wallstreetbets) message board could crank up 50 Cent's lyrics – as they inflicted severe pain on the "sophisticated" hedge fund investors who did not think to see if there would be any stock available to buy when they all rushed for the same narrow exit at the same time.
Go, shorty
It's your birthday
We gon' party like it's your birthday
We gon' sip Bacardi like it's your birthday
And you know we don't give a f**k it's not your birthday
Play 50 Cent "In Da Club" on YouTube
The retail traders had a huge short term win and mopped the floor with the dealers and the short-sellers, but as the old saying goes, "bulls make money, bears make money, pigs get slaughtered."
The good news is you will see a number of successes on the Reddit board. Some traders cashed out and paid off student loans, medical bills for families, mortgages, etc.
The head poster allegedly turned $50K into $22M, (and is still hodling) per his post below: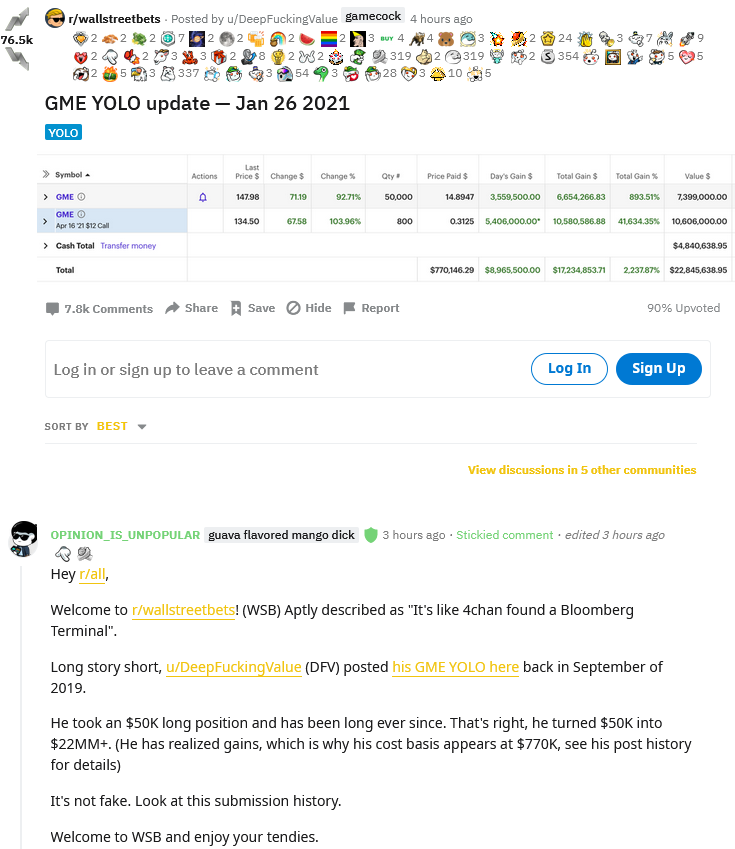 The name of the 50 Cent album that holds the song "In Da Club" is "Get Rich or Die Trying." While we are currently seeing some members of the club "gettin' rich" on paper, in coming weeks and months we may see some of the hodlers "die tryin.'" The lesson is to make sure they don't take you out on a stretcher and that you live to play another day (with greater wisdom and experience).
The key – when you get into these special situations – is to make a moment-by-moment and day-by-day decision to – Sell Some, Sell All, or Do Nothing. With parabolic moves (on options), it's often best to scale out a little at a time (20% off when you're up 5x, then another 20% over the next few increments, and finally you can let 10 or 20% run – in perpetuity – until a clear reversal – because you've already made so much on the other 80% that it doesn't matter).
In the case of the retail traders "In Da Club" I think many of them are purist hodlers who may hold too long. An important point to keep in mind is, "just as there was no stock to buy for shorts to cover on the way up, WHO WILL BE THE NATURAL BUYERS ON THE WAY DOWN?"
Many of the shorts got blown out, and the ones who are left obviously have staying power and shorted at much lower levels. Nothing has changed fundamentally for them to change the short thesis they had when they shorted at $20 or $30 per share, so why would they cover at $300, or $200, or $100? So if the shorts who are left are not buyers, and there is no fundamental reason to buy at these levels (the most optimistic analysts on the sell-side have ~$30PT on the stock), who will buy on the way down with any size?
Disclaimer: Not investment advice. For educational purposes only: Learn more at HedgeFundTips.com.