The 4 Best Tech Stocks In 2021 Are Pioneers Of The New Economy
The economy was hit hard by a global pandemic in 2020, but the tech sector didn't just survive; it's now more essential than ever. And it's making folks a lot of money.
Small businesses have opened digital storefronts with Shopify Inc. (NYSE: SHOP), meetings are conducted on Zoom Video Communications Inc. (NASDAQ: ZM), and remote health has become necessary with companies like Teladoc Health Inc. (NYSE: TDOC) leading the charge.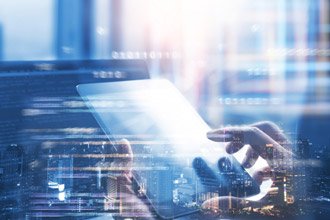 These companies are up 165%, 640%, and 175% just this year. This is all in the face of a 35% drop in the market earlier this year and an economic recession. But this is just the start for some of the best tech stocks on the market, and 2021 could be a breakout year.
We are in the early innings of a major digital transformation as work and school from home have swept the nation. Even as physical stores continue to open, one common thread here is that tech has taken center stage.
While the economy and daily life will no doubt return to normal, the advancements in technology are here to stay. Zoom has helped companies cut costs for meeting across the country, and digital storefronts have helped small businesses reach larger markets than they ever have before.
But there are even more of these breakthroughs coming in 2021. I'm looking at four trends powering tech higher next year, plus, I'll show you four of the best tech stocks to buy in 2021 to profit from these moves.
Here are the four biggest tech trends to watch in 2021 and the best stocks to take advantage of them…
Big Data will Make Tech Stocks Winners Again
The amount of data we produce every day is astronomical. So much that 90% of the world's data was created in the last two years alone. YouTube videos, family photos, Word documents, game data, new websites, and companies have all added to this number. This means that making sense of this data has become a huge opportunity.
And one company is making this all possible.
It's not Google, either. In fact, it's one of my favorite tech stocks.
Elastic NV (NYSE: ESTC) was founded in 2012 as a search company that builds self-managed and SaaS offerings for search, logging, security, and analytics use cases. The company develops the open source Elastic Stack, which includes Elasticsearch, Kibana, Beats, and Logstash.