The 13.5% Yield MLP You Can Put In Your IRA
One of the biggest problems facing yield-seeking investors has finally been solved. Now, the best quality MLPs can be owned in your retirement account through this ETF solving investors desires for yields and tax efficiency.
Up until late last year, high-yield investors had been counting on the upstream MLPs to generate high-yield, predictable cash flow streams. The energy commodity price crash resulted in deep distribution cuts from the majority of upstream MLPs. The upstream MLP sector has remained volatile, with both the energy markets and stock markets making it difficult to forecast future distributions and return potential. For investors who like to hold some high-yield MLP exposure, the Yorkville High Income MLP ETF (NYSE:YMLP) diversifies away from the pure-play upstream MLPs, yet still carries a low teens dividend yield.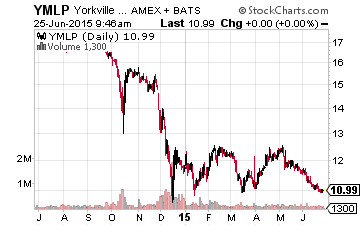 Fund Strategy
YMLP tracks the Solactive High Income MLP Index, a rules-based index designed to generate a list of stable, high-yield MLPs. To select components, the "high-income" MLP universe is ranked using the criteria of (1) yield, (2) distribution coverage, and (3) distribution growth. According to the index rules high income includes:
"All MLPs operating with one of the following as a substantial business segment:
Exploration and production of oil and/or natural gas
Sale, distribution and retail marketing of propane and/or other natural gas liquids
Marine transportation of one or more of the following: crude oil, dry bulk, refined products, LNGs, and other commodities
Direct mining, production and marketing of natural resources, including timber, fertilizers, coal and other minerals."
The top 25 ranked MLPs become fund components with weighting based on average daily trading volume. Sixteen MLPs are equally weighted at 4.75% with the remaining nine split into two weightings of 3.43% and 2.06%. Eligible MLPs for the index are ranked once a year and the top 25 are weighted using the percentages described. The index is rebalanced using these rules once a year on the third Friday in March.
High yield / high dividend growth MLPs comprise a significant portion of the core portfolio of The Dividend Hunter and are used as part of the Monthly ...
more