Tesla: Navigating The Risk Cluster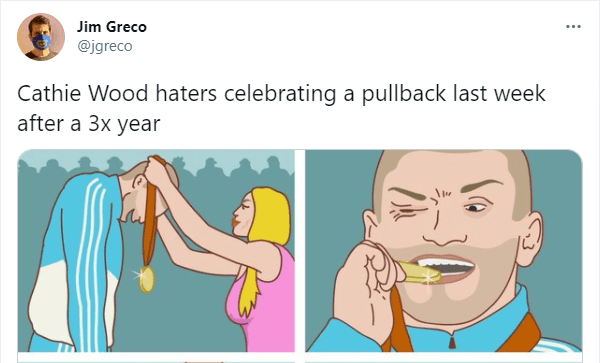 Part of Jim Greco's meme tweet mocking haters of Cathie Wood, portfolio manager of the Ark Innovation ETF (ARKK).
The Tesla-Bitcoin-Ark Risk Cluster
On Monday, ZeroHedge posted Saxo Bank equity strategist Peter Garnry's note on the "Tesla-Bitcoin-Ark risk cluster. Garnry warned downside risk posed by the increasing correlation of Bitcoin and Tesla (TSLA), combined with the Ark Innovation ETF's large stake in Tesla:
In today's equity update we are following up on our analysis of the Tesla-Bitcoin-Ark risk cluster showing an updated positions analysis, cross-correlations in the flagship Ark Innovation ETF, and an drawdown analysis. Yesterday, was another bad session for this risk cluster and Ark Invest had a day with outflows across all their ETFs highlighting that risk sentiment has changed. With the founder's bold move to increase the position in Tesla during the week the risk has gone up that this risk cluster could turn into an ugly forced selling dynamic causing pain in not only Tesla, Bitcoin, and Ark funds, but also US biotechnology stocks where Ark Invest is a major holder with high ownership in selected names.
Garnry's not the only analyst who's warned about this risk. Kris Sidial has too, but Lilly Francus offered a contrarian take on it. More on them below, but first a quick note on Cathie Wood.
The Passion Of The Portfolio Manager
Readers may recall we mentioned Cathie Wood's unique background in an ill-timed post last week (Bitcoin Bounces Back):
As she told the Jesus Calling podcast last month, Wood named her ETF after the Ark of the Covenant:

Well, I started ARK Invest at the age of fifty-seven, so it was quite late in my career. I believe my career is starting all over again, though. I decided to name my company after the Ark of the Covenant, because as I was going through that very difficult period starting in '06, where the market, nothing made sense to me, I started reading the One-Year Bible, after I would read the passage for the day, I would then just open it up randomly and say, "God, speak to me. Just show me what to do. Show me Your will. Show me Your way."