Tesla, ARKK, Nasdaq 100 And S&P 500: Varying Stages Of The Cycle
Markets have a tendency to move in cycles. Sure, the day to day give and take can create impactful moves in price action but, over the long-term, cycles have a penchant to hold as human emotion plays a role in a market's performance, just like the Fed and interest rates do.
Paul Robinson wrote about this in the article Market Cycles| Phases, Stages and Common Characteristics. Below, I look at four key markets that appear to be in varying stages of the current equity market cycle, brought to life by the intense stimulus outlay from global central banks in response to the coronavirus pandemic.
In the effort of making an apples-to-apples comparison, I've attempted to normalize the technical analysis on the below chart, by aligning Fibonacci retracements and trendlines; so that we might make an objective determination as to which of these markets have been most vulnerable and which may be highlighting what's around the next corner.
S&P 500 HOLDING UP, REMAINS NEAR HIGHS
The blue chip index continues to look strong, with a fresh all-time-high printing just last week. There was a retracement around the Wednesday release of inflation data, but matters seemed to calm towards the end of last week and that strength has so far remained into this week.
The trendline connecting November and March lows has remained unfettered: Last week saw buyers step in before that trendline could come into play for support.
Amongst the four markets being analyzed in this article, the S&P 500 has retained the most bullish outlook given this continued strength.
S&P 500 DAILY PRICE CHART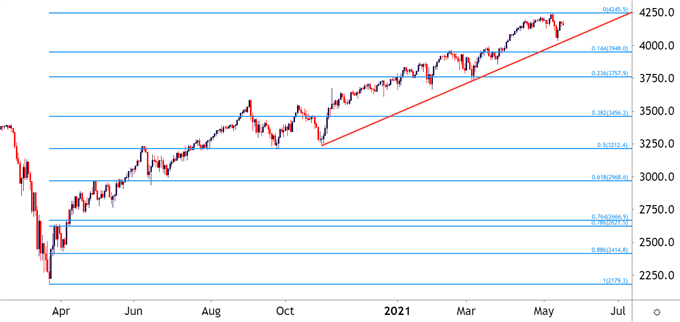 Chart prepared by James Stanley; SPX500 on Tradingview
NASDAQ 100 FEELING A BIT MORE PRESSURE
Tech stocks were very much the leader coming out of turmoil last February/March. The index caught a quick bid and went into a hard rally throughout the summer. And after mean reversion showed from September into November, the index again went on a strong bullish run to propel up to fresh all-time-highs in mid-February.