Stock Exchange: ETFs Kill Fundamentals, Technicals Matter
Review: How Big Will The Next Market Pullback Be?
Our previous Stock Exchange asked the question: How Big Will the Next Market Pullback Be? We noted that many traders wait patiently for the next market sell off because it creates an opportunity to "buy low." However, how low is low enough? How far does the market have to fall before it officially becomes a buying opportunity? Traders run the risk of being too early (e.g. the market could fall a lot farther) or too late (e.g. they miss the buying opportunity because they were waiting for the market to fall just a little farther before entering a position).
This Week: ETFs Kill Fundamentals, Technicals Matter
This week we tease the idea that growth in passive ETF investing is killing the appreciation for fundamental analysis, and increasing the importance of paying attention to technical analysis when placing trades.
For starters, here is a fun chart from zerohedge showing that passive investing continues to grow rapidly.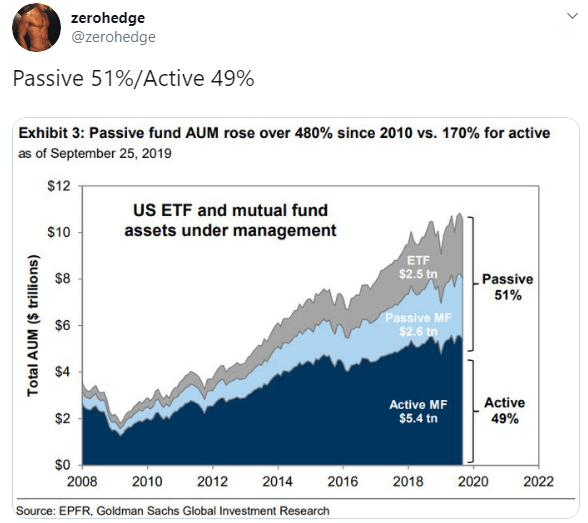 Now aside from active mutual fund managers complaining about the dangers of this trend (on the inside they're complaining about their lower AUM revenues), there are implications worth considering.
One of the commonly mentioned dangers of this trend is that it leads to bloated large cap stock market caps, because many cap weighted ETFs end up buying more and more large cap stocks in a bit of dangerous cycle. Arguably, this trend causes stock prices to detach from fundamentals.
However, rather than arguing about the dangers of the ETF growth trend, some argue that it simply creates more opportunity for technical traders considering stocks are arguably moving less on fundamentals, and more on technicals.
For some perspective, here is a look at the September, Q3 and year-to-date performance of major market indeces, sectors and styles (and of course there is a growing amount of assets being allocating to ETFs that closely track each of these categories).
September 2019 Performance:
We have a new (free) service to subscribers to our Felix/Oscar update list. You can suggest three favorite stocks and sectors. We report regularly on the "favorite fifteen" in each ...
more