SPDR Gold Trust Driven By Low Rates And Strong Momentum
The portfolio is monthly rebalanced, and the benchmark is All-World 60-40 Benchmark (BNCH), which is a portfolio of global stocks and bonds holding 60% in stocks and 40% in bonds.
The charts below show the historical performance numbers for the ACR Rotation Strategy since January of 2007.
(Click on image to enlarge)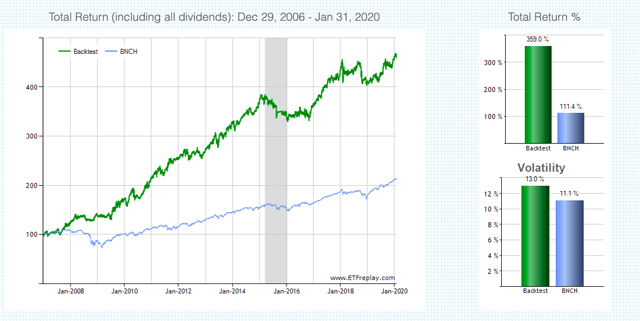 Source: ETF Replay
(Click on image to enlarge)

Source: ETF Replay
Since inception, the strategy gained 359% versus 111.4% for the benchmark. More importantly, the maximum drawdown, meaning maximum decline from the peak, was 14.4% for the ACR strategy versus 35.4% for the benchmark.
It is important to understand that no strategy can outperform in each and every year, though, and relative performance will depend on market conditions to a good degree.
In periods when trends are strong and long-lasting, either up or down, we can expect these kinds of strategies to deliver market-beating returns. On the other hand, when prices for different asset classes are moving sideways, the strategy will most probably produce many false signals and, ultimately, disappointing returns.
We can gain a deeper understanding of how the strategy works by looking at the annual return numbers for different periods. Its worst year was 2015, and the annual loss in that year was a very manageable -4.7%.
(Click on image to enlarge)

Source: ETFreplay.
The fact that the strategy tends to produce positive returns most of the time and that losses are relatively small when they happen is the main strength in these kinds of strategies. Offense sells tickets, but defense wins championships.
As a reference, the worst year for the benchmark was 2008, with a return of -19.5%. During that year, the ACR strategy gained a healthy 15.4% by investing in safe-haven assets such as Treasuries and gold.
In a year such as 2017, when risky assets boomed, the strategy gained 18.2% by investing aggressively in equities, also outperforming the benchmark by a considerable margin.
Disclosure: I/we have no positions in any stocks mentioned, and no plans to initiate any positions within the next 72 hours.
Disclaimer: I wrote this article myself, and it expresses my ...
more