SPDR Gold Trust Driven By Low Rates And Strong Momentum
SPDR Gold Trust (GLD) has been firing on all cylinders lately. The gold-tracking ETF broke above resistance levels in the area of $150 per share in recent days, and it is making new highs for the year as of the time of this writing.
(Click on image to enlarge)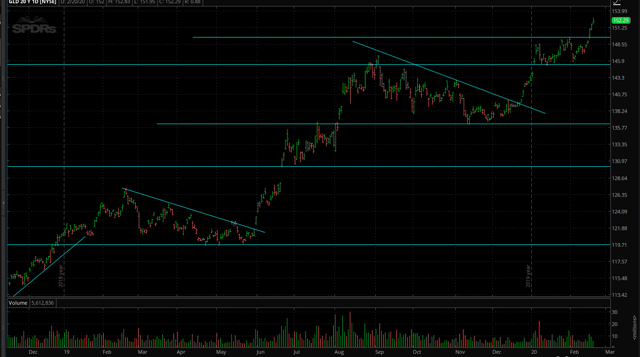 After such a strong run, nobody should be surprised to see some kind of consolidation in the short term. However, both the economic fundamentals and the quantitative price trend indicators are looking bullish for SPDR Gold Trust over the coming months.
Gold And Interest Rates
Gold and real interest rates have a negative correlation. Since gold doesn't pay any interest, declining real rates reduce the opportunity cost of holding gold, making SPDR Gold Trust more attractive in comparison to other alternatives in the market when rates are low and declining.
Even more important, when real interest rates are negative, this means that interest rates are not providing enough compensation for inflation. If the price of gold is expected to adjust for inflation in the long term, then SPDR Gold Trust becomes a particularly compelling proposition when real interest rates are below zero.
The chart below shows the monthly and yearly relationship between gold prices and real interest rates from 1975 to 2018. An image is worth a thousand words and declining real rates are clearly a major tailwind for gold prices.
(Click on image to enlarge)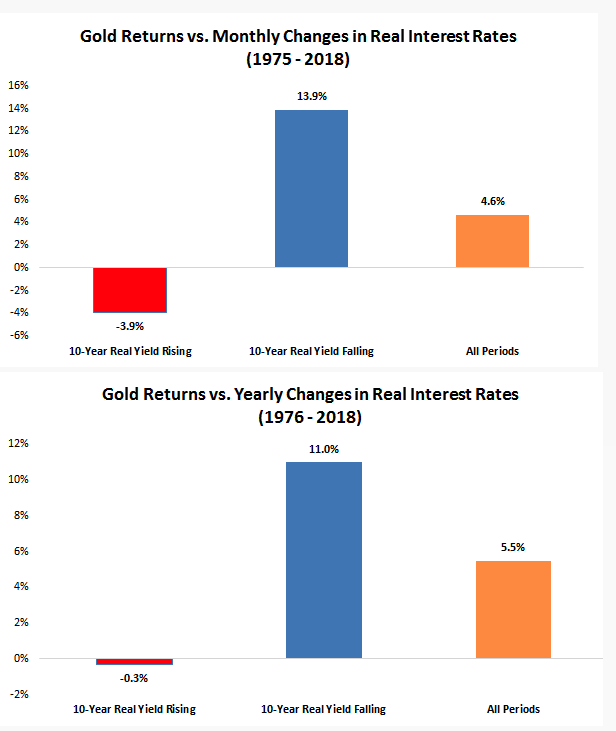 Source: Pension Partners
The US economy has been mostly resilient in recent months, yet real interest rates have fallen deeply into negative territory. To a considerable degree, this is due to the fact that financial markets are now deeply integrated on a global scale, and nominal interest rates in many European countries and in Japan are now in negative territory.
(Click on image to enlarge)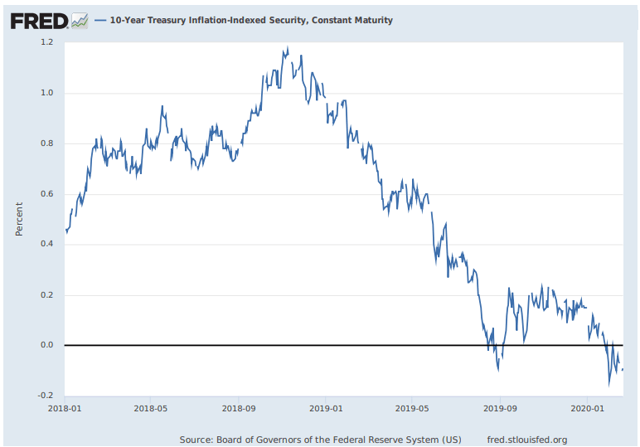 We are not just talking about Germany and Switzerland, but even Greece is issuing short-term debt at negative nominal rates. Forget about even starting to account for inflation, investors are willing to take negative rates in nominal terms for the privilege of parking their money with the government.
Disclosure: I/we have no positions in any stocks mentioned, and no plans to initiate any positions within the next 72 hours.
Disclaimer: I wrote this article myself, and it expresses my ...
more