S&P 500, Russell 2000, Corporate Bond Fund Flows As Q2 2021 Begins
Despite the current pause in longer term Treasury yield moves, sentiment in the bond market still remains on edge as investors ponder the potential for higher inflation. Recent and upcoming CPI and PPI prints will not help ease these worries among the less informed, as base effects from last year's data will show YoY inflation prints well over 2%. YoY PPI for March printed at 4.2%, and March's CPI data is likely to show a similar story.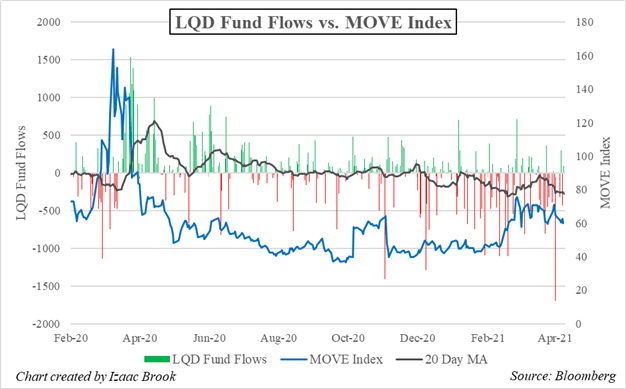 The corporate bond ETF LQD saw its largest outflow on record on the first day of April. While the ETF saw large inflows last March and April on the back of Federal Reserve promises to provide support to the corporate bond markets. The termination of these facilities at the end of 2020 coincided with a large uptick in outflows, and these elevated outflows have continued into 2021 as rates have moved higher. YTD, outflows from the ETF total over $12 billion.
The MOVE Index, which tracks US interest rate volatility, has halted its march higher but remains notably elevated compared to its levels in late 2020 and early 2021. Another move higher in Treasury yields could spell further trouble for LQD and other bond ETFs.