HH

Small Cap Biotech Stocks Soar: How Long Will Rotation Last?
Here is an overview of MicroCap ETFs with the iShares IWC chart for six months year below. There are over 40 microcap ETFs.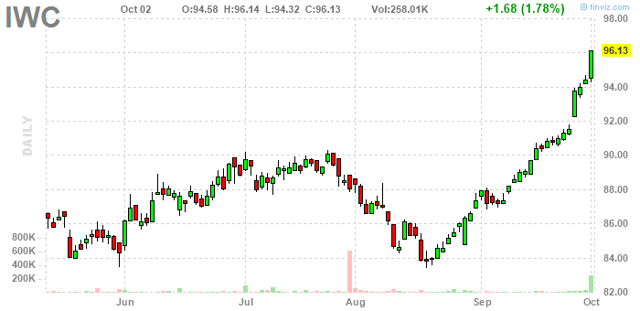 For example three stocks I have recently traded show this volatility: Aveo Pharmaceuticals (AVEO), Editas Medicine (EDIT) and Ignyta (RXDX). All three have huge gains YTD but were hard to call in May 2017.
Another ETF to track is the iShares S&P 600 Small Cap Value Index (IJS) also up 10% over 30 days.
Unless you trade daily, maybe with help from specialized software to assess technicals and financial metrics, the volatility with microcaps can be frustrating. It is always difficult to decide when to sell even after big gains.
The wave of interest in small caps is a healthy signal for the biotech bull market until some event curbs speculation as it did in 1999-2000. For now these three ETFs - CNCR, IWC, XBI - are good indicators for risk appetite.