Silver: This Is Awkward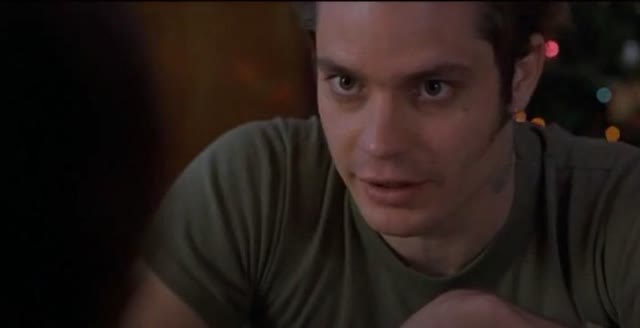 Timothy Olyphant in Go (1999) explaining why he hates The Family Circus.
Damn. We're Bullish On Silver Again
Well, this is awkward. Let's drop the royal "we" for this post. I, David Pinsen, the founder of Portfolio Armor, called silver "The Family Circus of investments" a few days ago. That was an allusion to this scene in the 1999 movie Go where one character explains why he hates the comic strip The Family Circus.
It's funnier hearing Timothy Olyphant tell it, but if you don't have time to watch the clip above, he hates it because it's the last thing he reads on the comics page, sitting on the bottom right "just waiting to suck". That's how I felt looking at silver names like the iShares Silver Trust ETF (SLV) drag down the performance of Portfolio Armor's top names, as it (and other precious metals names) are doing with our August 13th cohort.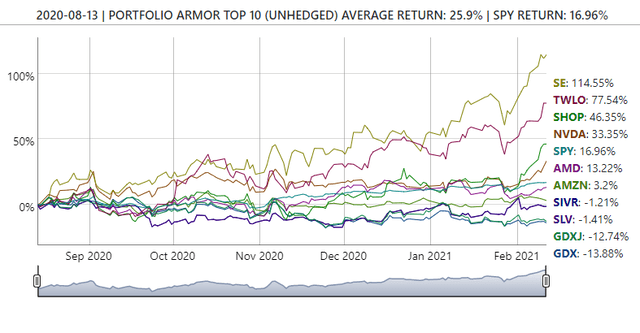 Then I check my site on Thursday night and it's bullish on SLV again. I'm still not a fan of precious metals personally, but Portfolio Armor is better at picking securities than I am. Let's look at why it's bullish on SLV again.
Breaking Down My Site's Analysis Of SLV
Here's the relevant part of SLV's entry on Portfolio Armor's admin panel as of February 11th. I've numbered the columns so I can explain what they mean below.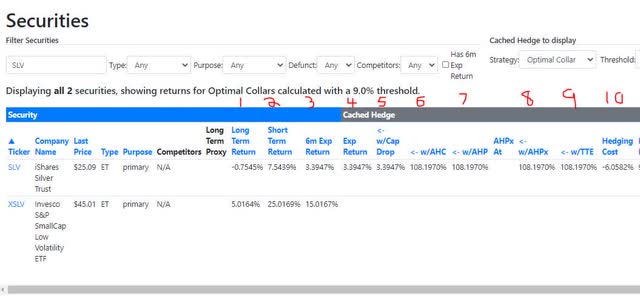 1) The Long Term Return there is the average 6-month return of SLV over the last ten years. It's -0.75%.
2) The Short Term Return there is the most recent 6-month return, 7.54%.
3) This column shows the mean of 1) and 2). It's now positive, at 3.39%, so SLV passes our total return screen now. If failed this earlier in the week.
4) That mean number becomes the site's preliminary potential return over the next 6 months.
5) The"w/Cap Drop" refers to the first gauge of options market sentiment the site applied to SLV. It attempted to hedge it against a >9% decline with an optimal, or least-expensive, collar over the next ~6 months capped at the figure from the last step, 3.39%.It found an optimal collar with that cap, so it moves on to the next step.