Selling Frenzy By Hedge Funds Hits Record, Offset By Surge In Buybacks
Two weeks ago, Bank of America warned that it had observed a sharp reversal to "increasingly euphoric sentiment" among its institutional, hedge fund, and HNW clients, all of whom sold in the previous week even as stocks continued their grind higher. This happened around the time that Goldman's Prime Brokerage had observed a startling streak as hedge funds sold stocks for 7 days out of 8, which prompted us to warn that a short squeeze was coming... we were right because just a few days later the S&P was back at all-time highs on - you guessed it - another whopping short squeeze.
Then, last week, when looking at its latest client flow data, BofA found that bearish sentiment accelerated and for the second week in a row the bank's clients were net sellers (-$2.0B) of US equities with net sales in both single stocks and ETFs (only the third time this year clients sold ETFs), while retail clients were the "least dumb money", and according to BofA were once again the only client group to buy stocks, albeit at the weakest level since mid-Feb.
So after two consecutive weeks of sheer "smart money" revulsion did buyers finally emerge?
Well, according to the latest BofA Client Flow Trends report published overnight, not only did buyers not return - as the bank's clients were net sellers (-$2.2B) of US equities for the third week in a row...
(Click on image to enlarge)

... and are now net sellers on a YTD basis...
(Click on image to enlarge)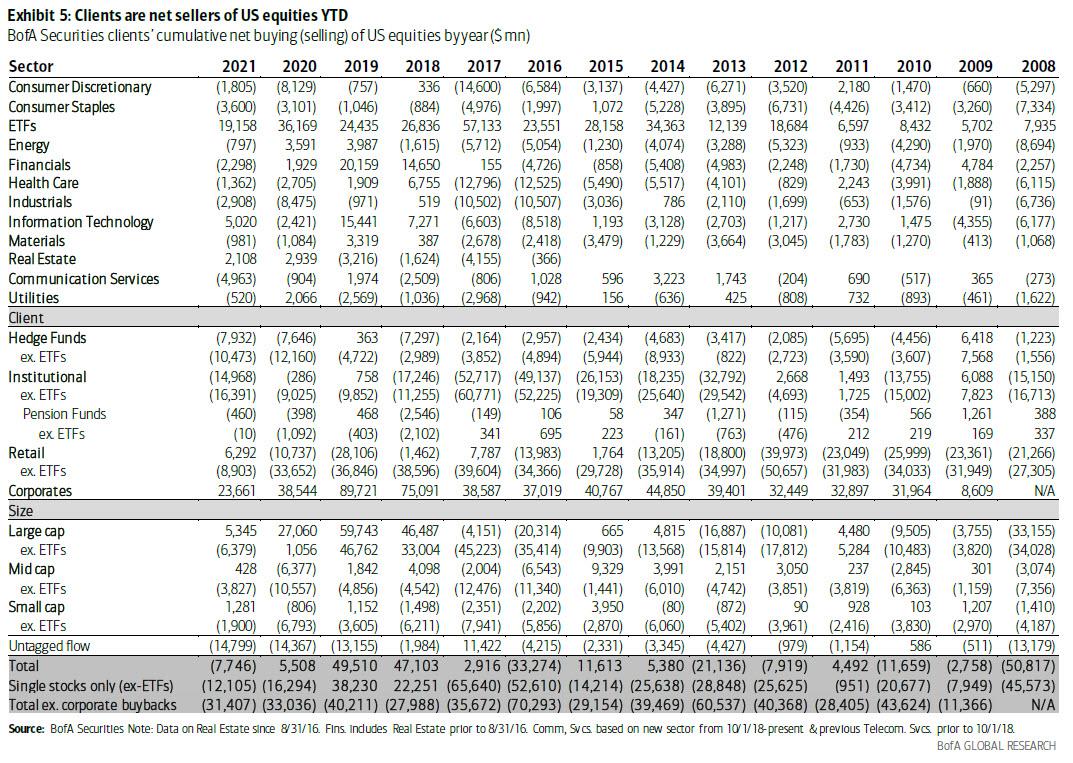 ... as the market reached another record high and equity sentiment as measured by BofA's proprietary indexes marched further toward euphoria - but the rolling 4-week avg. flows for hedge funds hit a record low in our data history (since 2008) and were three standard deviations below the average.
(Click on image to enlarge)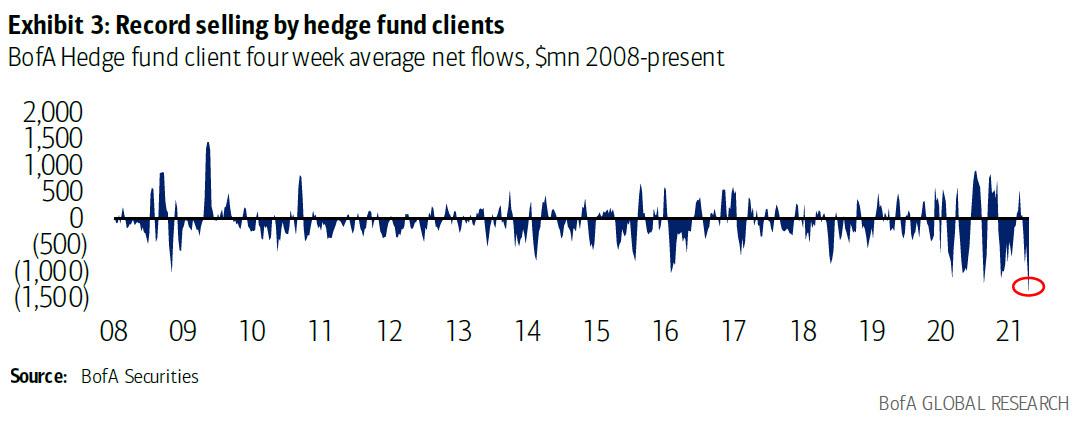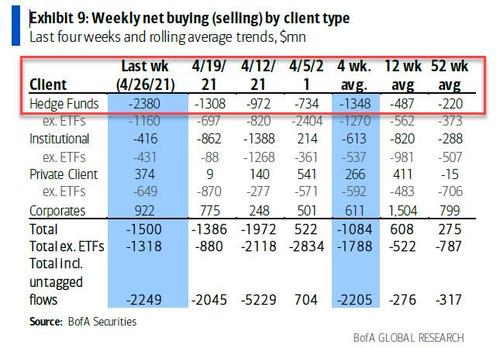 This matters, because the only other time flows were this extreme was at the end of last August after which the S&P 500 declined by 2.5% and 2.3% in the subsequent one and four weeks, respectively (although that was driven more by the collapse of the SoftBank gamma squeeze than anything organic).
Disclosure: Copyright ©2009-2021 ZeroHedge.com/ABC Media, LTD; All Rights Reserved. Zero Hedge is intended for Mature Audiences. Familiarize yourself with our legal and use policies ...
more