QQQ Is Good For Entering This Kind Of Market
These companies will be better cushioned against coronavirus and therefore so will an index fund weighted towards them as QQQ is and that excludes sectors particularly at risk of complete devastation. The rest of the QQQ holdings are almost entirely in communications services, similarly a relative safe haven amid this month's sell-off due to high Internet usage from people working from or locked in-home, and consumer discretionary which at first seems worrying but then not so much so when you see it's mostly due to the 9.89% holding of Amazon being classified as such.
The other major benefit of QQQ in this market environment is that it is moderately weighted towards large-cap companies but not overly so. The NASDAQ-100 index is market-capitalization weighted which means the roughly 100 companies of the index are balanced towards behemoths like Apple, Microsoft, Amazon, Google, and so on but not completely and totally.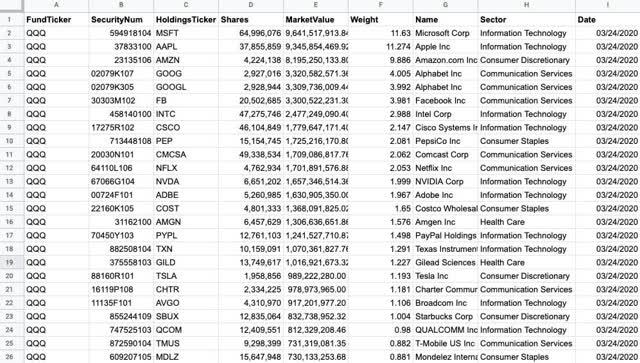 (Source: Invesco QQQ Fund Page "All Holdings" CSV)
As shown above, the top 10 companies in QQQ constitute 56.099% of the fund, a substantial amount. However the bottom 50 companies, constituting a variety of medium-cap and small-cap companies, beginning with MercadoLibre at a $24 billion market cap and going all the way down to Liberty Global at a $10.22 billion market cap, still constitute a moderate 10.726% percent of the index and give some exposure to moderately-sized companies but not overly so.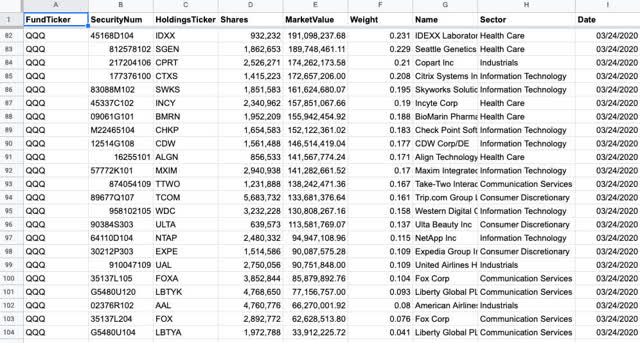 (Source: Invesco QQQ Fund Page "All Holdings" CSV)
This weighting towards large-caps with a dash, but not too much, of medium and small caps is good because it seems precisely the smaller companies that are facing the greatest liquidity concerns amid the coronavirus disruption and may have the toughest time getting access to debt and capital amid it. We see this in the significantly greater drops for the Russell 1000 and Russell 2000 as compared to the large-cap heavy indexes amid the sell-off of the past month.
Disclaimer: These are only my opinions and do not constitute investment advice.