PGF: My No. 1 ETF Combining Yield And Safety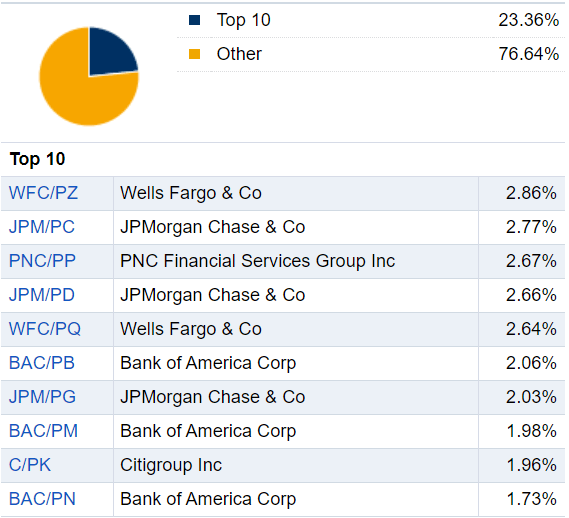 Source: Fidelity
Here are the next 15 holdings: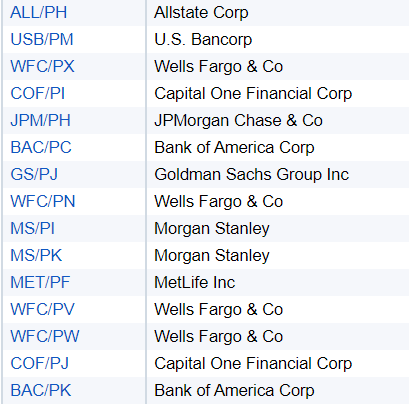 Source: Fidelity
What makes these holdings, and therefore PGF, different is that a large percentage of them are not the same $25 or $50 par preferreds that you and I might normally purchase. You might better think of these as preferred bonds in one sense. They are paid after all bondholders are paid in the event of a bankruptcy, so they are definitely lower in the food chain, but the greatest number of these are issued with a $1,000 par value. That makes them less likely to be owned by individuals and more likely to be owned by institutions.
Placing $100,000 with one issuer just to own 100 shares of one of these might not be prudent for thee and me. However, for a Prudential (PRU) or a Berkshire Hathaway (BRK-A) (NYSE:BRK-B), it would be ideal. This may be one reason why, unlike the chart of IOFAX above, which shows a slow but steady rebound, here's what PGF's rebound from mid-March looked like: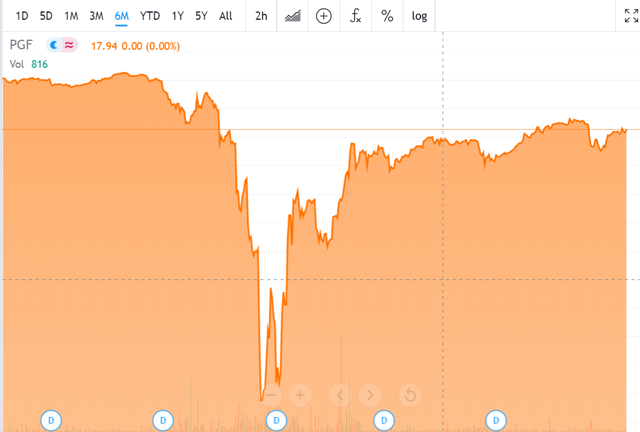 Source: Seeking Alpha
Like IOFAX, PGF never missed a dividend. Unlike IOFAX, PGF hit its low of about 13 on March 18 and less than a week later it already was back to 17! Once the institutional buyers realized the Fed was going to backstop any bond issued by such credit-worthy borrowers as JPMorgan Chase (JPM), Allstate (ALL), and MetLife (MET), they decided the preferreds were going to be safe as well.
If you blinked, you almost missed the recovery in PGF. But you can still benefit. The Fed backstop is firmly in place. Even if the Treasury and Fed, working hand in glove, decide at some point to remove some of the goodies and dollars they are dispensing, it's likely that they will continue to buy the paper and backstop the offerings of the largest financial sector companies in the world.
While I might not place $100,000 of my hard-earned money in a company's preferred shares, I have no problems buying 100 shares of PGF and getting a "piece" of 102 such companies for the princely sum of, at today's close, $1,813.
Full disclosure, I have done just that. I originally purchased 1,000 shares of PGF in my Marketplace Investors Edge Growth & Value Portfolio on Jan. 23, 2019. (That was the same day I wrote my previous article about PGF on Seeking Alpha.) I did not even consider selling PGF when it declined in March. (But I was too distracted by all the other noise to buy more when it was selling at 13 during The Great Income Debacle, darn it!)
Disclosure: I am long PGF.
Disclaimer: I do not know your personal financial situation, so this is not "personalized" investment advice. I encourage you to do your own due diligence on ...
more