My Top Five SPDR Picks For 2021 And Beyond
Since Pfizer Inc. (NYSE: PFE) and Moderna Inc. (NASDAQ: MRNA) released their COVID-19 vaccine news, the S&P 500 is up nicely, hitting an all-time closing high for this bellwether index.
With effective vaccines on the horizon, that the first patients could very well start to get next month, well… This is what a race to the finish line looks like.
The market loves it; heck, everyone loves it.
But not everyone has caught on yet; I guess there are some folks who haven't heard the phrase "pent-up demand." There are still some stocks under pressure. That gives us one of the all-time great opportunities to "get out in front" of some truly extreme value…
Where to Look for Monster Rallies Next Year
When you really think about it, after so much COVID-19-related economic damage, plenty of stocks have nowhere to go but up.
Some sectors have been muted but should respond positively once the medical and economic recovery gets underway.
Energy is a textbook example – the sector hit the hardest by COVID-19. The sector is down 39.86% year to date; this chart shows the sheer size of the carnage.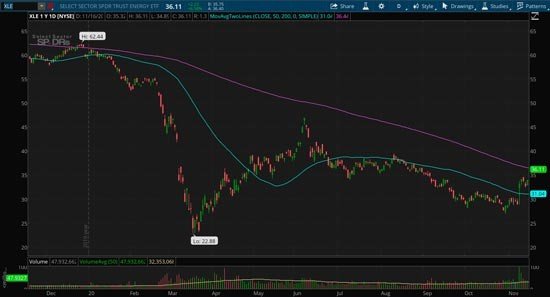 The good news is, as the world makes the long trip back to normality, energy consumption will, at a minimum, return to levels that we've seen in the past. It's very likely to go even higher.
The recent vaccine news has propped up the sector as investors' enthusiasm for energy stocks returns. I think this sector has huge growth potential in the coming months; economies will start to come back online, people who haven't been able to will want to travel – whether that be by car or plane – once it's safe to do so.
The Select Sector SPDR Trust Energy ETF (NYSEArca: XLE) has been channeling since June. This sector is rich with great companies, but I want to look at two of the top-performing stocks in this sector over the past three months – Baker Hughes Co. (NYSE: BKR) and Devon Energy Corp. (NYSE: DVN).