Morgan Stanley Warns Record Flood Of Retail Investors Is Buying The VIX, Could Trigger Huge Squeeze
At the start of February, SocGen's derivatives strategists made a fascinating, if very controversial, observation: with short positioning in VIX futures back to pre-covid levels, the bank, like everyone else stunned by the recent bursts of short squeezes bull ramps emanating from the WSB subreddit, analyzed where a squeeze blitz could strike next and concluded that the VIX complex itself (primarily via retail-friendly long VIX ETFs and calls on said ETFs) could become a target due to its not insubstantial short interest.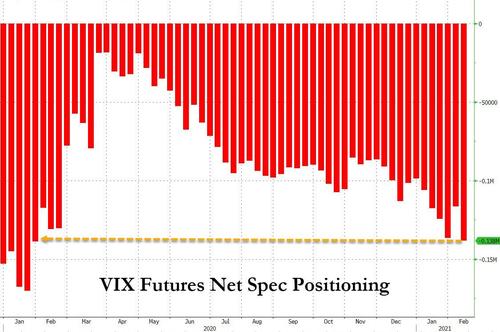 "If we were to see the GameStop wave carry over to the VIX ETP complex, it would be easy to imagine increased volatility and some very large moves", the SocGen analysts warned referring to the violent surge in GME, adding that "we could potentially see a similar repricing of S&P500 options this time around", especially when one considers that the net short positioning in the VIX future is not that far off its all time high.
Then, after scouring through Reddit and noting that "the volatility complex has been the topic of recent discussions on the forum", the French bank said that "the hedging activity from market makers could initially lead to some exacerbation in price moves on the upside. Thereafter, there is also some runway for strikes to be rolled. We would therefore recommend investors to be prepared for some upcoming turbulence in the implied volatility market."
Many were quick to brush SocGen's suggestion as a wildly improbably event shaped by a desire to "goalseek" one's expertise... except they were right.
As Amanda Levenberg from Morgan Stanley's Quantitative and Derivatives Strategy writes today, VIX exchange traded products (ETPs) have seen record inflows over the last 6 days, with 71k futures bought as a result of long VIX ETP inflows, the third most extreme episode on record.
Adding to this - and further validating SocGen's hypothesis - there has also been a remarkable increase in call activity in these long volatility products with call open interest rising sharply. The majority of flows in these products are typically driven by retail. And while retail did monetize some futures as VIX spiked in late January, over the last few weeks those outflows have more than reversed and the net amount of volatility held by VIX ETPs is the highest level since pre-COVID and in the 95th percentile versus the last 10 years.
Disclosure: Copyright ©2009-2021 ZeroHedge.com/ABC Media, LTD; All Rights Reserved. Zero Hedge is intended for Mature Audiences. Familiarize yourself with our legal and use policies every ...
more