Limited-Risk Investing In A Smaller Account
Third Approach: Buying Calls Instead Of Shares
This approach can work provided you limit your position sizing accordingly. For example, let's say you were willing to risk a 20% decline in your account, but not one larger than that. In that case, if you had $50,000, instead of allocating $5,000 to each of the top ten names, you could have tried to purchase $1,000 worth of calls of each name. That way, if all of your calls expired worthless, you wouldn't have lost more than 20% of your account.
Fourth Approach: Using Smaller Share Price Top Names
This is what our website does if you ask it to create a hedged portfolio for a smaller dollar amount. It automatically excludes securities that have share prices too high to allow buying and hedging round lots given the dollar amount of your portfolio.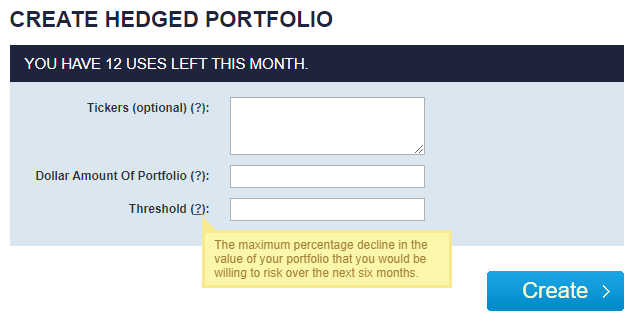 The smallest dollar amount you can enter in the middle field is $30,000. Let's say that on June 4th, you left the first field blank, entered $30,000 for the size of your portfolio, and indicated that you weren't willing to risk a decline of more than 13% over the next six months.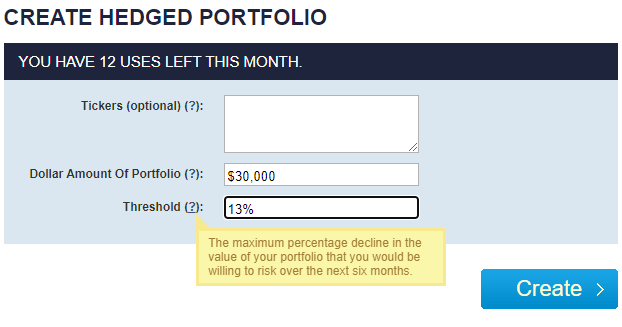 This is the hedged portfolio the site would have presented to you then: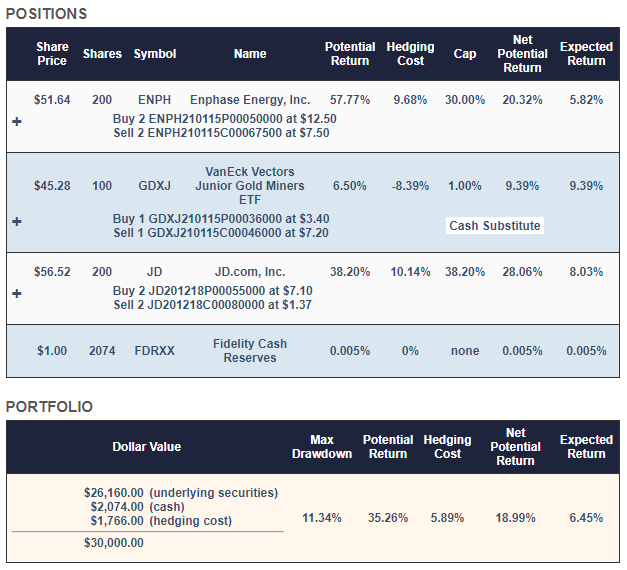 The two primary securities here were Enphase Energy (ENPH) and JD.com (JD). These weren't among our site's top ten names over all, but they were among its top fifty names. They were the top names with share prices below $100 though. Our hedged portfolio construction algorithm started with equal dollar amounts in each, then rounded down to round lots. It then used a tightly hedged position in the VanEck Vectors Junior Gold Miners ETF (GDXJ) to absorb most of the leftover cash from the rounding down process.
Here's how that portfolio performed over the next six months, net of hedging and trading costs: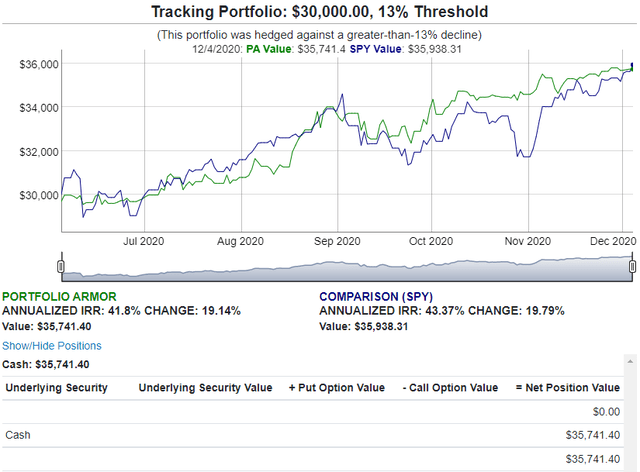 This portfolio was up 19.14%, versus the SPDR S&P 500 ETF (SPY), which was up 19.78%.
It's worth remembering that this portfolio was hedged against a >13% decline. A similar portfolio hedged against a larger decline, say, a >20% decline, would have outperformed SPY due to the lower hedging cost.